Are you of the opinion that coffee capsules and coffee pods are interchangeable? Although the convenience of both coffee pods and capsules in the morning is the same, the two are distinct products.
It doesn't sound like fun to have to measure out the right amount of coffee first thing in the morning. Nespresso deserves credit for making it possible to make coffee at home that tastes like it came from a barista.
This trend took over the coffee shop business by making it quick, easy, and cheaper to make cafe-style coffee at home. Each Nespresso pod costs between $0.80 and $1.40 and tastes great.
There are different types, roasts, cup sizes, and tastes of coffee capsules. The only problem is that not all coffee machines and coffee capsules work together. You need to buy the right kind of Coffee capsules or pods for your machine. So, let me explain what coffee pods and coffee capsules are and what they can be used for.
What Is The Difference Between Coffee Pod and Capsule?
The difference between coffee pods and coffee capsules is that coffee pods are round and flat packs of pre-ground coffee that come with a paper filter. On the other hand, Coffee capsules come in aluminum or plastic containers with pre-ground coffee. Which are made so that you can make coffee at home with a coffee machine.
Learn more about How To Recycle Nespresso Pods?
What Are Coffee Pods?
Coffee pods are just like tea bags, but instead of tea, they have already-ground coffee in a round, flat pack with a paper filter. Coffee discs, which are also known as coffee pods, can be used in any machine with a portafilter.
These coffee pods have an internal filter and can hold up to 7 gm of coffee. They can be either soft or hard. Aside from Keurig machines, soft ones are used to make drip coffee, and hard ones are used to make espresso in easy serving espresso machines, or E.S.E. machines.
A slang name for coffee capsules, coffee pods, and k cups is "coffee pods." Pods are the name for any single-serve coffee product these days. just like Nespresso coffee pods are called Nespresso pods.
Even though this sounds easy and good for the environment, it has some drawbacks, like not being able to control how fresh the grounds are and not being able to make barista-style coffee.
Benefits of Coffee Pods
Uses paper filter, earth friendly and biodegradable
portafilter-compatible and usable on a variety of machines
Has soft and hard pods
Less expensive than coffee capsules
Drawbacks Of Coffee Pods
The ideal method to make coffee is through drip. Else, it would be messy.
Espresso is only made with hard pods.
Few ways to make coffee, like drip or espresso
When compared to coffee capsules, the shelf life is shorter.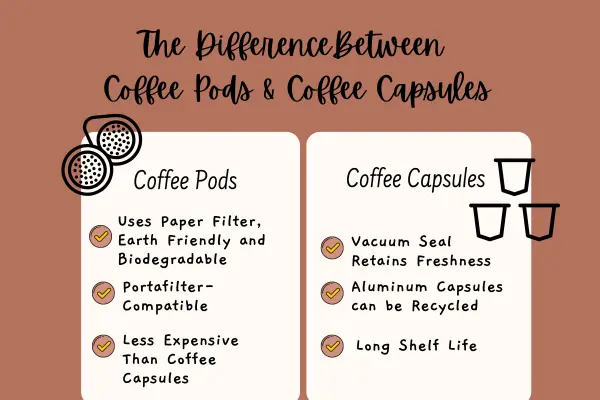 What Are Coffee Capsules?
Coffee capsules are tall and oval-shaped containers filled with coffee grounds that are made of aluminum or plastic and have an inbuilt filter or not. Coffee capsules are designed to resist the pressure of coffee machines and are vacuum sealed to prevent contamination when exposed to oxygen and heat.
Coffee capsules can hold 5-7 grams of coffee. Various beverages can be produced depending on the brand that employs these capsules. When coffee capsules are used in a keurig, it produces drip coffee. When the capsules are used in a Nespresso machine, it produces espresso, lungo, coffee, alto, and carafe-size coffee.
K-cups are the capsules used in keurig machines. These Nespresso coffee capsules are also known as coffee pods, coffee capsules, and nespresso pods or nespresso capsules. That is the issue; nespresso coffee capsules are also known as pods.
Nespresso capsules work with the machine they were designed for. There are various types of nespresso machines and pods. There may be a few different sorts of nespresso capsules that are utilized in various types of devices.
Advantages of Coffee Capsules
Vacuum seal retains freshness
Available in wide varieties
Aluminum capsules can be recycled
Long shelf life
DisAdvantages of Coffee Capsules
Different capsules for different machines
Expensive coffee
Most of them are made with plastic, cannot recycle or decompose
Plastic capsules use PVC
You May Also Like,
Are Coffee Capsules Reusable?
Coffee capsules cannot be reused. Although coffee pods and coffee capsules have several advantages for making a quick and simple coffee, they cannot be reused.
There are reusable coffee capsules on the market, including eco-friendly stainless steel and plastic or aluminum alternatives. The only catch is that you must locate the ideal reusable coffee capsule for your machine.
The following is a list of reusable cups for most Nespresso, Nespresso Vertuo, and Keurig machines.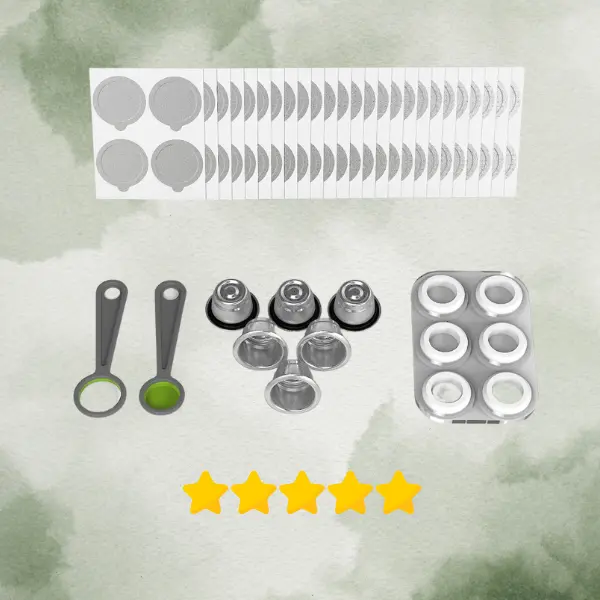 Triplot Reusable Capsules For Nespresso – Nespresso Original Compatible
These are stainless steel reusable coffee pods for Nespresso original line of machines. Includes 6 pieces of steel baskets with 100 aluminum sheets to cover and holder to keep these pods securely.
These cups are compatible for Nespresso original line machine, Nespresso U, Pixie, Le Cube, Maestria, Lattissimo, Inissia, Essenza mini and CitiZ
Pros
Zero compatibility issues
Reusable, Affordable
Cons
Buying the aluminum sheets again and again
Aluminum stickers create residue around the edges, needs to be cleaned properly to not have issues with sticking the new stickers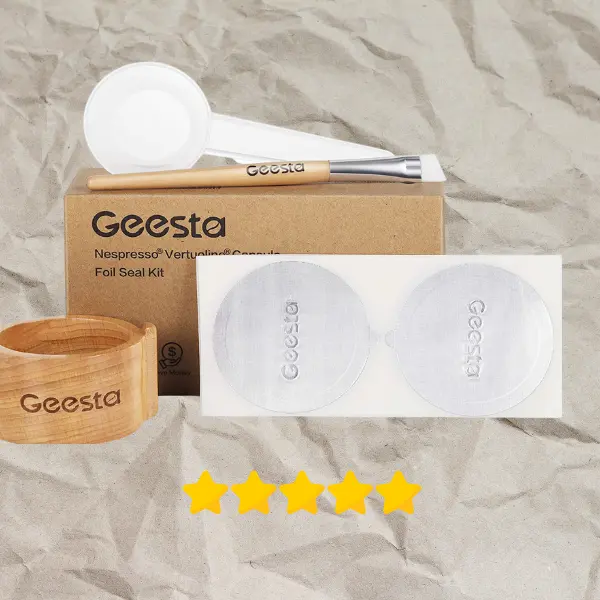 Geesta Aluminum Capsules – Nespresso Vertuo Compatible
This is the best quality capsule available for Nespresso Vertuo style machines. Due to the patented technology for Vertuo pods, there are limited options available in the market.
Geesta Aluminum foils are made extra thick to make sure, it cannot be any messy coffee. Designed perfectly for vertuo line Nespresso pods without covering the barcode underneath.
This beautiful design includes a wooden holder with 80 aluminum foil seal lids.
Compatible for Nespresso Vertuo and Vertuoplus line machines
Pros
Extra refill aluminum foils are available on amazon
Great quality reusable pods
Cons
Does not create crema like Nespresso pods
Time consuming process, takes a bit of practice
Keurig Reusable Coffee Pods – Keurig K Cup Compatible
This Stainless steel, eco friendly coffee pod is used instead of Keurig K cups.
An Environment friendly option to make at home Keurig coffee with less wastage, makes amazing coffee, easy to clean, and lasts longer.
These are compatible with K- Classic, K- Latte, K-Cafe, K- Select, K Compact, Keurig 1.0, Keurig 2.0, Breville K Cup And Mr Coffee K Cup.
Pros
Compatible with all K cup maker apart from K – supreme
Reusable and dishwasher safe
Durability and easy to use
Good value for money
Cons
Holes are big, need coarse grind coffee
Need to be careful to not touch right after brewing
How To Use Coffee Pods?
You can use your soft coffee pods in different ways.
Use coffee capsules in your coffee machine.
When you don't have a coffee machine, use this coffee pod to infuse in a hot water filled cup, push the coffee pod with a spoon, or stir occasionally to achieve perfectly prepared coffee.
Use a coffee pod holder, insert the coffee pod, and set it in a suitable coffee machine.
Use a conventional drip coffee maker to prepare coffee from coffee pods.
How To Store Coffee Pods/ Coffee Capsules?
The coffee pods should be stored in a location where the temperature and outside conditions do not ruin the coffee grounds within or harm the pods. High temperatures can have an effect on the pod, which in turn can have an effect on the coffee inside.
The pods should be kept carefully without any damage to the outer area. Any damage will allow air inside the pods, forcing them to be trashed and rendered useless.
Most pods have a best before date on the pod rather than an expiry date, therefore coffee is considered fresh until the best before date. Although coffee does not expire, the taste may vary after this date.
How To Use Coffee Pods In Keurig?
Coffee Pods cannot be used in Keurig. There are numerous myths about coffee pods and k-cups. Although both are soft coffee pods used to create drip coffee, they are not the same. The coffee pods are not K-Cups. They are built differently for drip extraction procedures.
Green Mountain Corporation created K Cups, which are coffee capsules that can only be used in Keurig machines. There are other K cups that are compatible with Keurig machines but cannot be termed K Cups because only Green Mountain manufactures K-Cups.
Can Coffee Pods Or Capsules Be Used In Keurig?
Apart from K cups, no other coffee pods or capsules can be used in the keurig. The Keurig coffee maker features an inbuilt milk frother and may be used to create juice, coffee, tea, and hot chocolate, all of which contain milk.
Keurig is a patented technique that is generally utilized in the United States to produce the best cup of single serve coffee or tea, although other manufacturers, such as Nespresso, are more focused on Espresso, which is popular in Europe. With the world's rising addiction to espresso or espresso-based drinks, these machines are gaining popularity in the United States.
Keurig machines only accept K cups or compatible third-party pods like K cups.
FAQ's
What Coffee Pods Are Compatible With Delonghi?
Except for Delonghi U machines, all Nespresso original coffee pods and all coffee pods compatible with Nespresso original are compatible with Delonghi. Third-party pods such as Bestpresso and Gourmesso also offer Delonghi compatible pods. Pods from Lecube, Essenza, Citiz, All pixie, Lattissima, Maestria, and Inissia can also be used in Delonghi to make a superb cup of espresso or any other type of coffee.
Delonghi espresso pods work with K-Cups, but the others work with nespresso pods.
Delonghi machines are also compatible with easy serving espresso (ESE) pods.
What Coffee Pods Are Compatible With Aldi Machines?
There are different kinds of Aldi machines, such as K-fee, Expressi, Dolce Gusto, and Keurig.
K Fee Aldi Machine works with K Fee pods like K Fee Empire, K Fee Grande, K Fee Latensia, K Fee Preferenza, K Fee Square, K Fee Twins 2, K Fee Twins, and K Fee Wave.
K fee Coffee pods can be used in any Expressi Aldi machine.
There are many different kinds of coffee pods that can be used with Aldo makers. This includes pods made by Aldo as well as pods made by other companies. Before making sure the pod works with the machine, you should make sure you know what kind of machine it is. Aldi machines, Nespresso machines, and Dolce Gusto machines can all use coffee pods from Aldi.
What Coffee Pods Are Compatible With Lavazza?
Lavazza has a wide range of coffee machines that work with Nespresso original pods and any other pods that are compatible with Nespresso original pods.
What Coffee Pods Are Compatible With Dolce Gusto?
Nescafe Dolce Gusto works with Nespresso Original, Lavazza, and Delonghi coffee pods, as well as the coffee pods that work with these machines.