Nespresso is an easy way to make coffee like a barista at home.
With the touch of a button, your cup of cafe-style coffee is ready. But what happens when you press the button? How does a Nespresso machine work?
I was interested in how Nespresso machines work because they are easy to use and comfortable. Now, I'll tell you in detail what I learned about Nespresso machines, including the different kinds and how they work.
How do Nespresso Machines Work?
Nespresso machines work by using the specially designed coffee capsules, depending on the type of machine used, type of capsule used, and type of drink selected to dispense. It creates an easy and automated way to brew European style espresso or Australian style coffee. With a choice of milk or without.
These user-friendly machines are made to produce consistent, high quality espresso and coffee. The use of specially designed coffee capsules helps in making precise coffee measurements consistently and minimizes mess.
Types of Nespresso Machines
The Nespresso coffee makers have more than 30 varieties at the moment. But all these machines are divided into two major parts, the original line and the vertuo line.
These two product lines from Nespresso offer unique features and capabilities. The Original line of machines offers the best espresso style coffee, and the Vertuo line of machines offers a wide variety of coffee drinks. The choice of machine purely depends on the personal style of the coffee drinker.
Let's go over the Nespresso original line and Vertuo line of coffee makers, their differences, brewing methods, coffee capsules, and coffee varieties in detail.
Nespresso Original Line
Nespresso's original line of coffee makers is made to make espresso quickly and easily. They use a high-pressure pump (usually 19 bars) to force hot water through the coffee grounds in the capsules. This creates the pressure needed to get the best coffee out of the beans. Ristretto, Espresso, and Lungo are all different options available. Just put the capsule in the machine and press the size you want. The coffee will be in your cup in seconds.
There are many options in the original product line, such as Lattissima One, Gran Lattissima, Creatista Uno, Creatista Plus, Creatista Pro, Essenza Mini, Inissia, Citiz (limited edition), and Citiz & Milk.
How To Use a Original Line Nespresso Machine?
Using a Nespresso Original Line machine is quite simple, and it lets you make delicious espresso and drinks with espresso at home.
The only things you need are a Nespresso Original Line coffee machine, a coffee capsule of your choice, Filter water, and a Coffee cup.
Steps to operate your Nespresso Original Line machine.
1. Prepare the Machine by plugging in the cord and turning it on. Allow the machine to preheat, a blinking light is a sign of the machine heating up, and a steady light represents that it is ready to use.
2. Fill the water tank with sufficient filtered water.
3. Place a nespresso coffee capsule in the capsule compartment and lock the lever in place
4. Press the desired cup size button. The options available are Ristretto, Espresso (Small), and Lungo (Large).
5. Place your cup at the coffee outlet and wait for 25–30 seconds.
6. Once the brewing is complete, espresso is dispensed into your cup with crema.
7. Lift the capsule container lever to eject the used capsule.
8. Turn off the machine, or a few machines turn off automatically after 9 minutes of not using it.
There may be slight variations in operating different models, but the end result of a Nespresso Original Line machine is a beautiful espresso with a creamy layer of crema.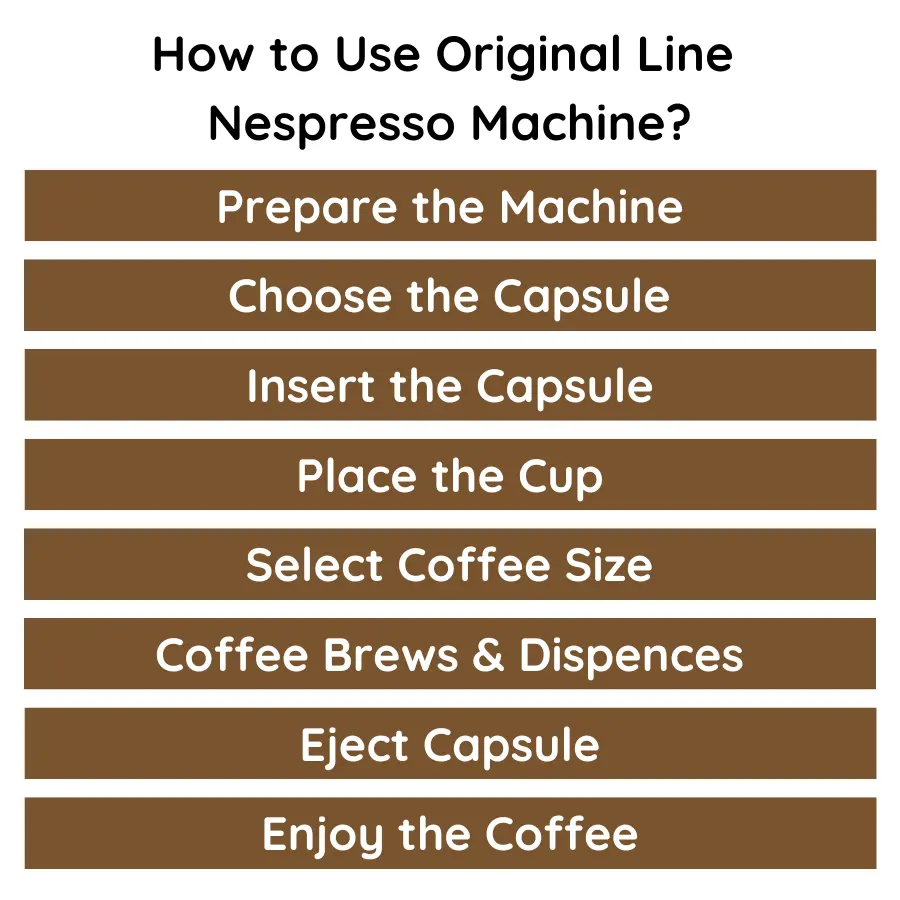 Nespresso Vertuo Line
Nespresso Vertuo Line machines use a spinning method to make coffee called centrifugal brewing. They can make a bigger range of coffee sizes, including espresso, double espresso, gran lungo, mug, and alto. The Vertuo line is made for people who like different kinds of coffee.
Nespresso Vertuo Line machines use bigger capsules with barcodes that are unique to each machine. The barcode system figures out what kind of coffee blend it is and changes the brewing settings to match. Vertuo Line machines serve a wider range of people because they can make both espresso and larger coffee sizes for people who like a more standard cup of coffee.
The Vertuo line of machines includes Vertuo Creatista, Vertuo Lattissima, Vertuo Pop Solo, Vertuo Next Solo, and Vertuo Plus Solo.
How To Use a Vertuo Line Nespresso Machine?
The Nespresso VertuoLine machines provide diversity in coffee sizes and types while maintaining the comfort and convenience of the Nespresso system. The barcode method guarantees that you always get the proper cup of coffee, whether it's an espresso shot or a bigger coffee.
Steps to operate your Vertuo line machines.
1. Place the Nespresso Vertuo Line capsule in the capsule compartment.
2. Fill the water tank with sufficient filter water
3. Plug the cord and switch it ON
4. The machine lever head will read the barcode on the capsule's rim.
5. The barcode contains information about the coffee blend, brewing temperature, water volume, and rotation speed required for that specific coffee.
6. The machine reads the barcode and adjusts the brewing parameters accordingly.
7. Nespresso Vertuo line machines have multiple buttons such as Espresso, Double Espresso, Gran Lungo, Mug, and Alto. Select the desired button.
8. Place your cup under the coffee outlet.
9. Using centrifugal force, the machine spins the capsule at high speed while injecting hot water, extracting the flavors of the coffee and producing a thick, creamy crema.
10. Coffee is dispensed into the cup.
11. The machine ejects the used capsule automatically.
12. Turn off the machine and enjoy your coffee.
Add milk, cream, sugar, or other ingredients to your coffee to suit your tastes. The barcode method in Vertuo line machines makes it easy to make sure each coffee blend gets the best brewing settings.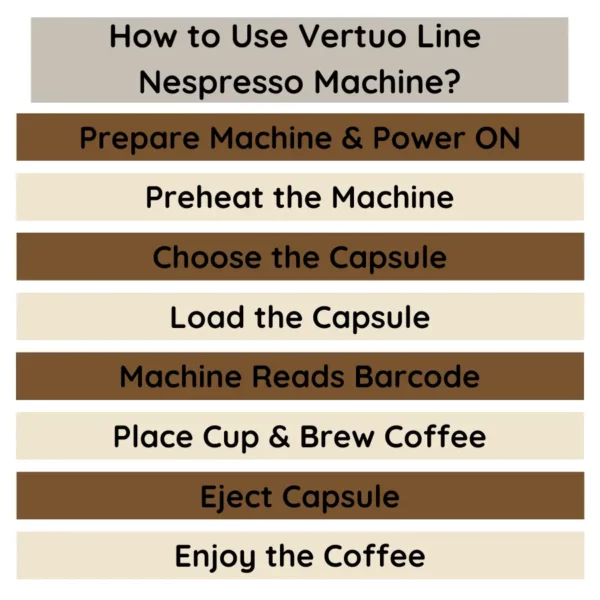 Differences Between Nespresso Original Line and Vertuo Line
Key Differences
Nespresso Original Line Machines
Nespresso VertuoLine Machines
Brewing Method
Pressure-based (19 bars)
Centrifugal brewing
Coffee Capsules
Ristretto, Espresso and Lungo sizes
Espresso, Double Espresso, Gran Lungo, Mug, and Alto
Coffee Variety
Emphasizes espresso-based drinks
Offers a wider range of coffee sizes, including espresso and regular coffee
Crema
Classic espresso crema
Generous and rich crema
Brewing Parameters
Manual customization
(in some models)
Barcode-based automatic adjustment
Cup Sizes
Espresso and Lungo cups
Espresso, Double Espresso, Gran Lungo, Mug, and Alto
Espresso Customization
Possible in some models
Automatic based on barcode
Ideal For
Espresso enthusiasts
Those who prefer a variety of coffee styles
Used Capsule Container
Yes
Yes
Energy-Saving Features
Varies by model
Varies by model
Available Milk Frothing Option
Creatista Pro, Citiz and Milk have attached milk frother
No in-built milk frother
Price
$219-$1399
$229-$1099
Compatible Coffee Capsules
Nespresso Original Pods, Peets Coffee Nespresso, Solimo Pods, L'OR Nespresso Pods, Starbucks, and Lavazza.
Only Nespresso pods are compatible
Available Machine Models
All Citiz, Essenza, Lattissima, Pixie, Maestria, Prodigio, Inissia, Gran Maestria, and Le Cube.
Vertuo Lattissima, Vertuo Creatista, Vertuo Pop+, Vertuo Next, Vertuo Plus, Vertuo Flat Head, and Vertuo Round Head
Please keep in mind that the models within each line may have different features and that Nespresso may add new models over time. Check the Nespresso website or a Nespresso store for the most up-to-date information on what's new.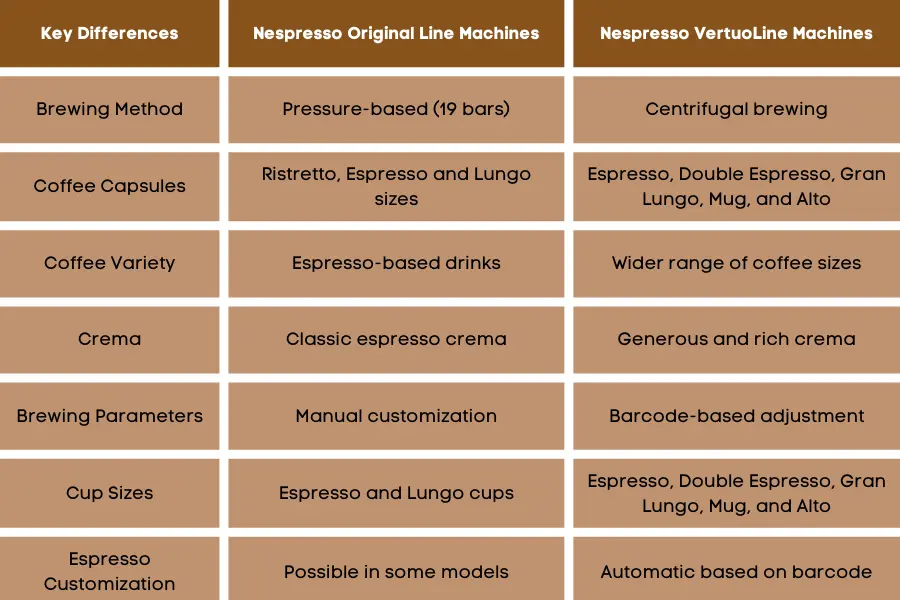 FAQ's
What Types Of Coffee Can I Make With A Nespresso Machine?
Nespresso machines, whether they be from the original or Vertuo lines, can brew a variety of espresso-based beverages, including ristrettos, espressos, lungos, double espressos, gran lungos, altos, and mugs. But since both types of Nespresso machines can make espresso, that drink can be used as a base for many other coffee drinks.
Adding milk to coffee made with a Nespresso makes it possible to make any kind of coffee. Some machines in the Original line have a built-in milk frother that lets you make cappuccinos and flat whites at home like you would in a bar.
How Does The Nespresso Milk Frother Work?
Nespresso's milk frothers are the Aeroccino 3, the Aeroccino 4, and the Barista. A milk frother is a machine that mixes air into milk to make it thicker and creamier, like foam. This is used to make a layer of foam on top of cappuccinos, flat whites, and lattes.
The Nespresso Aerccino 3 Milk Frother has a single button that can heat the milk, make hot foam, or make cold foam that can be used in lattes.
One whisk on the Nespresso Aeroccino 4 milk frother can be used to make three different things. It can heat milk, hot foam, and cold foam with the quick four buttons, and it can also go in the dishwasher.
With a touch screen and a connection to the Nespresso app on your phone, the Barista Milk Frother can make more than 20 coffee recipes.
What Are The Benefits Of A Nespresso Subscription?
By subscribing to a Nespresso machine, you can save money on coffee pods and other accessories. When you buy a machine on a subscription plan for 12 to 24 months, the amount you pay each month is turned into points and added to your account within 5 days. You can keep collecting these credit points for a year after your subscription is over.
You can use these credit points to buy Nespresso products in Nespresso boutiques and on the Nespresso app.
How Do Nespresso Machines Use Pods?
Nespresso machines use pods to produce coffee drinks depending on the machine, the original line uses 19 bars of pressure to extract coffee from coffee pods, while the vertuo line uses centrifugal force of water and spins the pods to extract coffee from pods.