Recycling Nespresso coffee pods is an economically and socially responsible way!
Recycling Nespresso coffee pods is easy because of the material used to make them. An estimate that 75% of aluminum ever produced is still used. According to the Aluminum association, recycling aluminum saves up to 95% of the energy used to make a new aluminum product than making something from scratch.
Let's talk about how to recycle Nespresso coffee pods and recycling methods in detail.
Are Nespresso Pods Recyclable?
Nespresso Pods are recyclable because Nespresso coffee pods are made of aluminum. Once the coffee pod has been used, it can be collected and delivered to designated organizations that recycle coffee pods.
The best thing about Nespresso pods is that they are composed of aluminum, which preserves freshness and quality. Aluminum may be recycled several times and completely recycled into any home item.
In reality, the same recycled coffee pods can be converted into new Nespresso coffee capsules, and the aluminum used to create coffee capsules will still be of the highest quality. It is the most easily recycled material.
Many groups have also developed coffee pod recycling programs. These will be discussed in depth.
When the capsules arrive at the recycling plant via the nespresso recycling system, they are processed to separate the coffee grounds from the aluminum capsules.
Coffee grounds are converted into nutrient-rich compost.
The cleaned aluminum capsules are now heated, and the plastic and other materials on the capsules are melted. The remaining substance is only aluminum, which is melted again.
This melted aluminum can be reused.
Ways To Recycle Nespresso Pods
There are multiple ways to recycle nespresso pods. Used coffee pods are collected in a recycled bin or collected in a recycle bag and sent to the concerned department for recycling.
Blue Bins
In NYC, the nespresso aluminum capsules can be recycled by just putting them in curbside bluebins. Or can also use a Nespresso recycling scheme, but bluebins is the easiest and convenient way.
Drop At Nespresso Boutique
Nespresso has its own recycling scheme, it has about 500 collection points at Nespresso Boutique or others participating in the program. Also Nespresso introduced at-home recycling initiatives in 18 countries.
Buy recycling bags at any Nespresso boutique or order on Nespresso website for free up to 2 bags while buying pods
To take the pods to recycling unit, you need this recycling bag as the bag gets recycled along with the pods
Each bag can hold up to 200 nespresso originalline capsules and 100 vertuoline capsules, do not overfill the bag and seal it properly by pressing across the plastic tabs
Once filled, drop these at any UPS drop-off location or at Nespresso Boutique
Find the nearest drop location
Drop the recycle bags at the desk and these bags will be periodically sent to recycling unit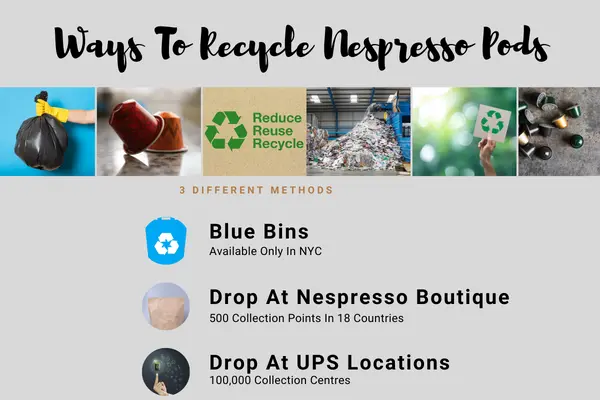 Drop At UPS Locations
Nespresso and UPS work together on this recycling program to help the environment in the U.S. With this partnership it has over 100,000 collection points around the world with convenient courier and postal services.
UPS with the slogan single serve doesn't mean single use, helps with several options for convenient recycling
Locate any nearby UPS store or collection point
UPS doesn't require any recycling bag to take the pods, but it is an advantage if they are given in recycle bags
Call the store and check with them about how to get the pods
Drop off the pods at the desk with no charge
Also, Read Types of Coffee Pods.
Coffee Pods Recycling Programs
There are three Coffee Pods Recycling Programs that are widely used. They are Nespresso Recycling program, Terracycle Recycling program and L'or Coffee Recycling program. You can read more about them below.
Nespresso Recycling program
The Nespresso capsule recycling program is now in 39 countries, and it gives both coffee grounds and coffee pods a second chance at life.
Nespresso is working with UPS to make this available in 100,000 places around the world. All you have to do to recycle coffee pods is decide to do so, get a recycling bag, and drop off the full bag at a Nespresso boutique, collection center, or UPS store. The Nespresso team will take care of getting the pods to the recycling site and recycling them.
Most Nespresso collection points are located near Nespresso Boutiques.
Terracycle Recycling program
Terracycle is a free recycling program for coffee bags and pods that only works with one brand.
This program is only available for Don Francisco's Coffee bags, espresso pods, and single serve coffee capsules. And Cafe La Llave espresso pods and single-serve coffee pots.
You can buy a zero waste box from terracycle. These boxes come in different sizes. Sign in to your Terracycle account and print the shipping label once the box is full of coffee bags and capsules. Now, properly seal the box, put the shipping mark on it, and send them.
Through this, you can earn terracycle recycle points, which can be used for donations to any charity organization. $0.01 per point, the package must be 7 pounds, and each pound adds 100 points.
L'or Coffee Recycling program
L'or coffee and espresso capsules are recyclable aluminum.
This L'or mail-back capsule service is offered in 48 states. With a partnership with g2 revolution, the coffee capsules will be recycled. This g2 revolution has a mail-back scheme for small businesses and customers who live in their own homes.
When you buy coffee from L'or Coffee, you can also ask for a free recycling kit that includes a collection bag with a charged UPS label. You can order up to two bags per month. You can put 100 used L'or coffee capsules or 200 used espresso capsules in this bag. Once filled, seal and deliver to the UPS facility.
You May Also Like:
How Many Nespresso Pods Fit In A Recycling Bag?
Each Nespresso recycling bag can hold up to 200 coffee pods from the original line or 100 pods from the vertuo line.
The metal used to make these nespresso capsules is 100% recyclable. So, when the bag is full, use glue to seal it at the top.
Nespresso and the Aluminum Stewardship Initiative (ASI) work together to take a long-term, all-around approach to sustainability. Making sure the same thing happens when getting coffee beans and when returning coffee pods.
Every year, Nespresso sells close to 14 billion coffee pods.
What Nespresso Does To The Used Nespresso Pods?
Nespresso pods can be recycled in four main steps gathering, sorting, compression, and composting.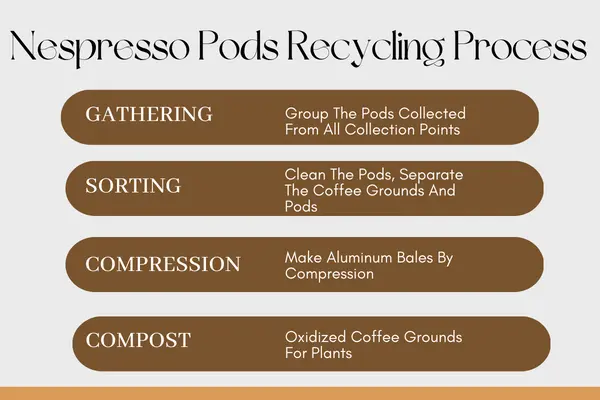 Nespresso pods in a group
Everyone who fills the recycling bag can take it to the store and place it in the appropriate recycle bin. Or give them to the people who work there.
The bags are then gathered up and taken to a place where they can be recycled.
Getting the coffee grounds apart
All of the used coffee capsule bags that have been gathered are now opened and put on a conveyor belt. This is then sent to a process where the capsules are cleaned and the leftover coffee grounds from the pods are sorted and collected.
Even the bags that Nespresso stores give out for recycling can be reused.
Compression Of Capsules
Once the coffee capsules have been cleaned, they are just pure aluminum, so they are sent to a scrap plant to be processed. Every 20 tons of capsules are compressed, secured, and made as aluminum bales.
The aluminum bales are then sent to another place to be melted down and used to make a new metal product.
Making The Compost
Coffee grounds are used to make mulch, which is good for plants. But it also takes about 8–12 weeks to add the necessary nutrients and oxygen to the compost and finish the process. After this, you can use the waste.
How To Reuse Nespresso Pods?
Reusing nespresso pods is another way to use them in a way that is good for the environment.
To reuse the coffee capsules, clean the used pods, tear off the foil on top, remove the coffee grounds, wash and dry the capsule, fill it with your choice of coffee, cut a piece of aluminum foil that fits the pod, put the foil on top of the pod, and seal it by tucking and pressing.
Now that the capsule is ready, you can run it through the machine like you would with any other Nespresso capsule.
Fill the original Nespresso coffee pod with 5 grams of coffee grounds for a normal cup of coffee and 6 grams for a lungo. Fill 5-7 grams of coffee into a vertuo line pod.
Coffee pods can be made of plastic, metal, or things that can be broken down by nature. Even though compostable coffee pods are good for the environment, not many good coffee makers make them yet.
Plastic coffee pods can also be recycled, but the process is more complicated, they can't be used as many times as metal can, and in the end they break down.
FAQ's
How to Find coffee pod recycling near you?
Answer is coming soon.
Can Nespresso Pods Be Used Twice?
Nespresso pods can be used several times with minimum effort to clean, fill new grounds and reseal them. When coffee capsules are stored in coffee makers, the metal foil on top tears, but the rest of the capsule remains intact. If you are prepared to seal the coffee capsule with aluminum foil, it is ready to be reused.
There are also extra aluminum foils on Amazon that can be used to seal the pods.
Do Nespresso Pods Expire?
The Nespresso pods have an expiration date. The best before date for Nespresso pods is generally 6-15 months from the date of manufacture. However, because the capsules are hermetically sealed, not even air can enter or leave the capsules. This keeps the grounds fresh and free of light and moisture. In fact, Nespresso pods do not even need to be kept in the refrigerator. Just store them away from direct sunlight and in dark places.
The best before date and manufacture date are stamped on the capsule to provide precise information. Although as a general rule, coffee grounds do not expire but lose their essence of aroma, flavor, and taste.
To properly appreciate the coffee flavor, drink any conventional coffee grounds or coffee capsules within 6 months of the day they were prepared; any later date can still be used, but the natural taste may be lost.
External References