The perfect grind size of the coffee beans is one of the most crucial factors in brewing coffee. Having the right coffee grind differentiates the taste, the experience of drinking a delicious cup and uniformity. Consistent grind is what we aim for while grinding coffee beans.
Although coffee beans can be ground in various methods. The ultimate result we aspire is for a grinder that would grind skilfully and efficiently. This is why I recommend you try a burr grinder.
A burr grinder is by far the best of the grinders available to grind fresh coffee beans, the precision and similarity of the grind size is just perfect. Here is a curated list of all the best available burr grinders in the market. Tested for quality, and efficiency.
If you are looking to purchase electric burr grinder, i strongly recommend you go for Cuisinart DBM-8 Supreme Grind Automatic Burr Mill coffee grinder. This coffee grinder makes no noise, easy to clean and best for coarse grind coffee just perfect for french press.
And if you are a manual burr grinder lover, pick none other than JavaPresse Manual Coffee Grinder. This has a patented technology for grinding beans. compact in size, grind for every kind of brew with 18 grind settings and a great travel partner.
Now lets dive into the list of best electric and manual burr grinders for french press coffee.
1.Cuisinart DBM-8 Supreme Grind Automatic Burr Mill
Product description:
Cord length – 34 inches
4 – 18 cup dial slide
Product weight – 4.50lbs
Removal grind chamber holds up to 32 cups.
Dimensions: 6.00 L x 7.13 W x 10.75 H inches.
Cleaning brush and scoop are included
Pros
Quality of the material
Airtight storage
Good value for money and easy to clean
Cons
Noise level and irritating grind sound
The container and the lid are made of plastic
This elegant brushed stainless steel colored Cuisinart burr mill boasts 18 levels to grind your coffee beans, from ultra-fine to extra-coarse. For everybody's convenience and preference of taste.
With an automatic stop, it's guaranteed to be consistently ground to the right grade. While maximizing the oils, aromas, and flavors for a better cup of coffee.
This is a disc burr/blade hybrid coffee grinder to be specific. Not a true burr grinder and not exactly a blade grinder either.
There is static, so some grounds do stick in the container, but less than in the cheap blade grinder. This is easy to rinse out.
Well, this is louder. but it's not that much louder than a bladed chopper, and to get a good, uniform grind, it's well worth it.
Features of Cuisinart Automatic Burr Mill
Elegant stainless steel style
Convenient cord storage option
4-18 cup grind slide
Fine grind to extra coarse grinding option with 18 point grind selector
Removable grind chamber which holds up to 32 cups
Automatic electric shut off timer
Removable 8oz bean hopper
Separate one-touch power bar, heavy-duty motor and cleaning/scoop Brush
Why should you pick this?
The longevity of its operation is truly impressive
It grinds very well from fine to coarse
Noisy enough to help me wake up in the morning!
Good buy for the money
It does great on the coarse grind for French Press coffee, very uniform. You hit the button and it stops when it is done grinding.
2.Baratza Encore Conical Burr – Best Entry Level Coffee Grinder
Product description:
Black plastic material
Product weight: 6.83lbs
Available colors – black and white
Grounds Bin Capacity. 5oz
Bean Hopper Capacity. 8oz
The grounds basket is plastic, charcoal in color
No cord storage and cord is not removable
They are designed in Seattle, built in Taiwan, the burrs are made in Europe
Pros
Easy to use
Grinds coffee beans fast and not too loud
Creates a consistent grind and durability to ensure the longevity to expect from the Baratza brand
Baratza grinders are preferred by coffee professionals and backed by Baratza's world-class support.
Excellent customer service
Cons
Not easy to clean, gets clogged frequently
Messy counter
Bit too pricey
Baratza encore is recommended by coffee experts as the go-to entry-level grinder for brewing coffee at home. This entry-level coffee grinder has been in the market since 2012. Baratza encore is the most widely used coffee grinder as per the manufacturer.
Baratza encore is reliable for its consistency of grind size. It makes it one of the most used coffee grinders for your home espresso, drip, or French Press coffee setup.
User-friendly coffee grinder – with a convenient front-mounted pulse button, plus a simple ON/OFF switch make it easy to grind fresh coffee.
Hardened alloy steel burrs manufactured in Liechtenstein, Europe, plus a powerful DC motor. The 2020 Update has the same trusted functionality with a sleek new exterior.
With unique speed control, the Encore uses a combination of gear and electronic speed reduction to control the rotation of the burr to 450 RPM. This slow speed reduces heat, noise, and static generation in the grinder. It also ensures that the beans feed smoothly into the burrs.
On Amazon.com you would be buying the 110v version. To purchase the 220v you would have to contact a dealer in a country with this voltage.
Features of Baratza Encore Conical Burr Grinder
Easy to operate with one switch control
40 steps grind control adjustment
Engineered with 40mm commercial-grade conical burrs that help you explore the extensive range of brew methods
Best grinds for espresso, Aeropress, Hario V60, Chemex, French Press, and automatic brewers
The Encore is backed by Baratza's world-class support and a 1-year warranty
Why should you pick this?
This is one of the most popular economical burr grinders available on amazon
Baratza are very adamant about Minimum Advertised Pricing
The packaging worked up by Baratza is very simple and straightforward, there is little waste (the pasteboard retail carton is the most of it, easy to recycle or use for fuel)
The warranty is 1 year, after 1 year Baratza will continue to provide support for your grinder.
3.Breville BCG820BSS Smart Grinder
Product description:
Color – brushed stainless steel
Dosing IQ technology
LCD
60 grind settings
Voltage: 110 – 120 Volts
Power: 165 Watts
Coffee bean hopper – 18oz
Product weight – 6.40lbs
Designed and engineered in Australia and are manufactured and assembled in China
Height without hopper – 10.5 inches & with hopper is 15 ¼ inches
Pros
Time-based programming
Comes with a 1-year limited manufacturer's warranty
Large hopper. Not as big as a professional grinder's hopper, but you can put a full pound of beans into this grinder with some room to spare.
Magnetic removable catch tray & magnetic portafilter holders.
Cons
Messy grinder
Too fine for coarse grind, jamming problem
The lid doesn't seal properly
Breville's Smart Grinder Pro features Precision Digital Time. which is adjustable in 0.2-sec increments to give you complete control over dose and grind time.
Choose among 60 different grind settings to achieve maximum flavor potential to suit your favorite brew. Grind settings allow you to go from the finest Espresso to the coarsest French Press.
BCG820BSS Smart Grinder Pro should be maintained regularly by removing the unlock-able bean hopper and below it the upper grinding burr to clear the chamber of any residual beans and ground coffee, a brush is included for easy cleanup. The exterior is stainless steel and high-quality plastic which can be wiped simply with a damp cloth. Below the bean hopper when removed is a minimal teaspoon or so of grounds and bean particles should you wish to grind them through to clear or remove manually, it should be relatively simple.
Smart Grinder Pro is a time-based grinder that can be relied upon to deliver relatively consistent results and programmable doses, this would assume the coffee type and freshness is relatively consistent as well. If a very different quality or roast, one might need to adjust accordingly to achieve the same gram weight consistency from the time-based programming.
The holders for the portafilters on the Breville BCG820BSSXL Smart Grinder Pro are not designed with any other portafilter in mind than the ones that come with the Breville Espresso machines. The BCG820BSSXL Smart Grinder Pro includes a 54mm and 58mm portafilter cradle holder to slide in under the chute when using espresso portafilters.
Features of Breville Grinder
Stainless steel conical burrs grinder designed to minimize grinding heat and protect the essential oils in the coffee bean
The 60 grind settings help to achieve the finest Espresso to the coarsest French Press
Precision Electronic Timer allows users to adjust grind time
18-ounce coffee bean capacity with locking system for easy removal, storage, and transfer of the bean hopper
Grind directly into a portafilter or an air-tight container
The Breville Smart Grinder Pro automatically doses the same every time you grind making it easy to achieve a consistent dose
Why should you pick this?
The Breville BCG820BSS Smart Grinder Pro is a time-based grinder which can be relied upon to deliver relatively consistent results and programmable doses
This model is more geared towards a wider range for espresso purposes as well as featuring dosing adjustments by way of the control panel and LCD.
You can experiment with up to 60 grind sizes to dial in exactly what you want. Personally, for espresso, 15.8 seconds at size 14 grind gives a perfectly dialed-in double shot on my Breville espresso machine. For drip, I'm liking the mid 40's, but I haven't decided exactly where yet. The difference from one setting to the adjacent setting is really hard to taste with drip coffee.
Cleanly removable hopper. To remove the hopper, you twist a knob to "lock" it. This closes down the feed ports at the bottom so no beans will fall out when you take the hopper off.
4.OXO Brew Conical Burr Coffee Grinder
Product description:
Color – silver
Stainless steel material
Product weight – 5.6lbs
Product height – 12 ¾ inches
Hopper holds 0.75 pounds of coffee beans
15 settings (additional micro settings)
Grounds container holds 12 cups of coffee
One-touch start timer
Pros
Very easy to clean
Makes less noise
Quality of product material
No mess because the stainless steel cup that locks into place during grinding
Cons
Any grind setting produce some amount of coffee dust and requires a paper filter
It clogs especially with fine grind
The timer is not accurate
The Oxo Brew Conical Burr Coffee Grinder is a fantastic grinder and one of the more affordable models. It receives strong scores in our grind performance tests, making it a good choice for any brew method you want to use.
It also earns a good rating for convenience, thanks to its marked and easy-to-use controls. I find it extremely easy to clean too. because it has a removable hopper.
This Oxo is a bit noisy. It features 15 grind settings, a 12-ounce bean hopper (one of the largest), an auto-stop feature, and a timer.
This grinder does not have a gram/oz measurement setting. The setting is measured by how many cups of coffee you are grinding coffee for (1 cup is about 6 oz of coffee). It grinds approximately 1.5 to 2 tablespoons of ground coffee per cup.
The OXO brew Conical Burr Coffee Grinder does not come with a storage container for grounds. It is designed to grind coffee as it will be used for a brew. The hopper holds up to 12 oz of coffee beans, so you can store that amount for about a week.
OXO coffee grinders are in partnership with '1% for the planet'. A non-profit organization that helps our environment. Oxo has committed to supporting environmental non-profits by giving 1% of its annual sales.
Features of OXO Conical Burr Grinder
The durable conical burrs in OXO conical burr grinder creates uniform grind size for better flavor
Grind size from fine to coarse, to make espresso or french press
Just push to grind as one-touch start system helps once you chose timer to the last setting
15 settings including additional micro settings will help you to achieve desired grind size
Why should you pick this?
This coffee grinder has a 12oz hopper, sufficient to grind coffee beans required for one week at once.
Two years warranty per Oxo's warranty statement, unlike other coffee grinders with 1-year warranty
Coffee grinders are noisy. Period. But this is not more than I would expect. It is quieter than I would have expected.
The design makes it easy to clean. I clean the container and wash it every use. And clean the coffee grinder once every month. Or when I change the bag of beans.
the amazing grinder that easily functions better than any I've used for this price range. I wholeheartedly recommend this to the beginner to a mid-level coffee enthusiast!
Also, Read Differences between French Press Vs. Aeropress.
5.Sboly Conical Burr Coffee Grinder
Product description:
Stainless steel material
Color – silver
19 grind settings
One button operation, automatic shut down
1 – 12 cups adjustable grind cup
Resealable dust proof lid
Product weight – 4.99lbs
Product height – 12.3inches
Includes cleaning brush
Pros
Less noise and heat.
Large bean hopper, large grind bin
Reasonable price
Cons
Grinder creates static
Beans do not flow when the hopper is almost empty, with no lever to push them down
After using it, you can pat the grinder from the side to make the remaining coffee powder fall off the outlet. This way, when you remove the container, it won't get so messy.
Wait 3~5 minutes after grinding, wait for static elimination.
Features of Sboly Conical Burr Grinder
A Conical burr grinder helps with uniform grinding. With high level of grind control
The 19 grind size settings allow you to grind coarse, medium, fine, and extra fine. These grind sizes makes any type of coffee as you wish
Lower rpm grinder
Easy to clean as the upper conical burr is removable. And the brush included comes handy to clean
Safety lock ensures less mess on the countertop. Also ensures grinder work safety and the indicator light will flash according to different working states
Depending on the requirement, you can choose 1 – 12 cups of coffee
1-year manufacturer warranty
Why should you pick this?
This Solby produces a very even grind and is much quieter yet still reasonably priced
The coffee tastes wonderful and it appears to be very durable unit so I think I will be using it for years
It's sturdy, quiet (for an electric grinder), lightweight, seems very durable, the controls are easy
THE BEST MANUAL COFFEE GRINDERS FOR FRENCH PRESS
The manual coffee grinders give you that fun of grinding the beans yourself! The aroma while grinding coffee is the best part. It sure takes time to grind coffee in a manual grinder and needs extra strength. But it certainly is a great thing.
6.JavaPresse Manual Coffee Grinder
Product description
Patented conical burr
Brushed stainless steel container
Color – Silver
18 grind settings
Pros
Quiet and uniform coffee grind
Built in adjustable grind selector
Convenient, portable & easy to use
Built-in window is a nice add-on
Relatively easy to clean
Immediate, prompt, and efficient customer service
Durability
Cons
Needs good amount of your time & energy
Plastic piece that sits inside the conical burr is very prone to breakage
Quality issues when package arrives
Recommended clicks for the type of grind
Coarse (13-18 Clicks) – French Press, Cold Brew, Percolator, Coffee Cupping
Medium Coarse (10-12 Clicks) – Chemex, Drip Coffee Makers, Vacuum Pots
Medium (7-9 Clicks) – Pour Over Brewers, Aeropress
Medium-Fine (4-6 Clicks) – Moka Pots, Pour Over Brewers, Aeropress
Fine (1-3 Clicks) – Espresso,Turkish
Features of JavaPresse Manual Grinder
18 adjustable grind settings help you make any type of coffee as you wish
Great customer service by the team. Easy and quick solutions
It takes about a minute to grind the coffee beans to the desired coarse grind. Perfect for the french press coffee
Patented its dual plated ceramic burr assembly
The plastic conical burr is now changed to nylon for great experience
Comes with a manufacturer guarantee & 100% money back guarantee
No batteries, power or long cord needed
Why should you pick this?
The built-in grind settings allow you to make any type of coffee. Letting you grind beans from coarse grind to fine grind to make your preferable coffee from espresso to french press
This is a pretty minimalist design with only a few moving parts making it really easy to clean
Compact enough to fit into virtually any travel pack
7.Hario Ceramic Coffee Mill
Product description
Black color equipment
Glass material
Ceramic burr with grip maker
Polypropylene cap
20 gm weight
Pros
It gives consistent fine grind
Simple design , easy to use
Great to carry when traveling
Easy to clean
The glass jar can hold up to 100 gm of coffee
Cons
Be careful with the glass jar
Makes 2 shots of espresso for one grinding
The user manual is not of any help
Spare parts are not available
This Japanese made product is reliable by customers for everyday use and for traveling. As Hario means "King of glass" in Japan. And Hario manufactures high quality glassware for general customers and industrial purposes.
Body made with heat-resistant glass. Glass for the lid Hopper handle knob is made with polypropylene. A lid with silicone rubber non-slip cover Hopper.
This is an inexpensive way to grind coffee for every brew and 20 gm weight makes it feasible for travelers & backpackers a great choice.
Features of Hario Ceramic Grinder
Excellent for single purpose use, efficient and consistent
The anti-slip cover is also easy to be stable and good
As the storage container is glass made, it can hold the ground coffee for later use too
Why should you pick this?
I think the performance of this product is good because of the different structure of the mill
Compact size
It is very easy to use product
Check out new article about Best Low Acid Coffee Brands For Acid Reflux.
Buyers Guide For The Best Coffee Grinder For French Press
Any Coffee Grinder can be used to make french press coffee. The question is to choose the best one for you from the available types of coffee grinders in the market.
What Are The Types Of French Press Coffee Grinders?
The two types of coffee grinders are manual and electric. Electric coffee grinders are used vastly as they are used commercially for coffee shops. Manual coffee grinders are preferred by few people who like their coffee prepared at home without any noise.
Coffee beans can be grinded using two different mechanisms. Burr coffee grinder and blade coffee grinder. As the name suggests, burr coffee grinders use a mechanism to crush the coffee beans. Whereas blade coffee grinder cuts and slices the coffee beans.
Let me explain in detail about all the different types of coffee grinders.
What Is A Manual Coffee Grinder?
A manual coffee grinder is a small, simple, durable, affordable, no-noise coffee bean grinding machine that is ideal for travel. Can generate consistent grind size for the settings every time. Every morning, this helps to balance the flavor profile. The size of a manual coffee grinder is one of its disadvantages; it is limited to producing enough coffee beans to create 1-2 cups of coffee at a time. And they don't have as many micro adjustments as an electric grinder.
Manual coffee grinders are more sturdy, reliable, easy to use than electric grinders. These are also available at extremely reasonable pricing ranging anywhere between 20-30$.
Javapresse manual coffee grinder is one of the best hand held coffee grinders with patented conical burr technology. Unlike other manual coffee grinders, Javapresse provides 18 grind settings with inbuilt grind select adjustment.
What Is An Electric Coffee Grinder?
An electric coffee grinder is a heavy metal grinder with nearly 40 grind settings, the ability to grind chosen coffee beans in seconds with the push of a button, a built-in timer, and scaling choices. These simple to use grinders come at a cost. The majority of electric coffee grinders generate a lot of noise, cleaning them takes a long time, and the machine heats up quickly.
Electric coffee grinders are classified into two types: burr grinders and blade grinders. The most economical electric coffee grinders are blade grinders. Don't fall into the trap of buying a blade coffee grinder based on the price since blade grinders slice the coffee beans and produce bad coffee. Any electric coffee grinder priced under $80 is unquestionably a blade coffee grinder. Keep a safe distance from them.
Manual Coffee Grinder Vs Electric Coffee Grinder
The differences between manual and electric coffee grinders are grinding technique, the time required to grind beans, the noise the machines make, the quantity of the grind, grind settings for different types of brew, travel friendliness, price range, consistency, power utilization, occupying a significant space on the kitchen counter, cleaning it, the taste of the coffee, consistency in grind size, and usability.
| | | |
| --- | --- | --- |
| Differences | Manual Coffee Grinder | Electric Coffee Grinder |
| Portable | Yes | – |
| Expensive | – | Yes |
| Durable | Yes | – |
| Grind Settings | – | Yes |
| Noisy | – | Yes |
| Electricity | – | Yes |
| Coffee For Group | – | Yes |
Manual Coffee Grinder Vs Electric Coffee Grinder
What Is A Burr Coffee Grinder?
The burr coffee grinder is what we usually see in coffee shops; it is a fancy machine with many pros and downsides. These machines can ground coffee for a large group in a matter of seconds. For a consistent batch of coffee, there are up to 40 grind settings and extra micro adjustments. Burr grinders are classified into two types: conical burr and flat burr.These machines can cost more than $100, but they are well worth it. Buy a burr grinder if you want to elevate your coffee game at home and make barista-quality coffee at home.
What Is A Steel Burr Grinder?
A stainless steel burr grinder is a type of coffee grinder that crushes coffee beans. Investing in a stainless steel coffee grinder has its benefits and drawbacks. Steel is chromium and does not corrode, so many people like it for this reason. But, repeated use can dull the blades of these coffee shop staples, despite the fact that they are sturdy and reasonably priced.
Steel grinders are widely produced for both commercial and household use due to their reliability, precision and ease of use. Steel body prevents the retention of coffee oils and increases the risk of altering the coffee's flavor by getting heated up. Environment can shorten the life of steel grinders since higher temperatures affect the efficiency of the equipment.
Furthermore, steel grinders come with sharp blades that lose their sharpness with time, requiring frequent blade replacement, raising the cost of maintenance.
What Is A Ceramic Burr Grinder?
Coffee grinders with ceramic burr blades are becoming increasingly popular due to their low initial cost and long service life. Ceramic burr blades are not initially sharp, but they sharpen and become more durable over time. Since the ceramic blade is unaffected by high temperatures, your coffee grounds will retain their full flavor. Ceramics are low-maintenance since they won't corrode.
Ceramic burrs tend to break if they come into contact with anything hard, which might slow down the grinding process. A machine can be damaged by a drop of any height. The ceramic burr grinds the beans, leaving behind small particles that contribute to the heavy mouthfeel of the brewed coffee.
Steel Burr Grinder Vs Ceramic Burr Grinder
Steel and ceramic burr grinders are mostly common to see in day to day life, the differences between steel burr grinder and ceramic burr grinder are durability, blade sharpness, grind precision, taste alter due to temperature or not, affordability, maintenance and quality.
| | | |
| --- | --- | --- |
| Differences | Stainless Steel Burr Grinder | Ceramic Burr Grinder |
| Taste | Clean Coffee Taste | Heavy Mouthfeel |
| Maintenance | High maintenance | Low maintenance |
| Price | Affordable | Cheap |
| Temperature effects | Steel tends to become hot while grinding and impacts taste | No effect |
| Grind | Higher grind precision | Fine particles with the grind |
| Blade Sharpness | Sharp blades initially and tend to become blunt over time | Ceramic blade tends to become sharper overtime |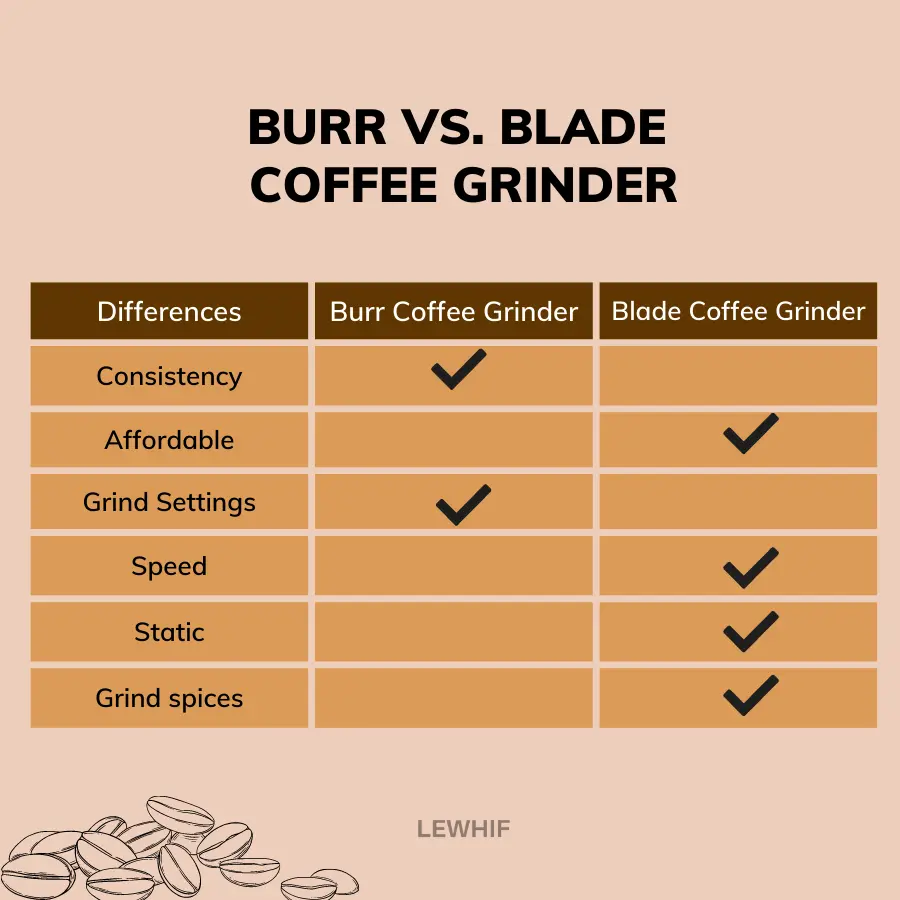 What Is A Blade Coffee Grinder?
A blade coffee grinder is a compact coffee bean grinding machine that cuts and slices the beans to produce the grind. A blade grinder can also be used at home to ground spices because it is faster and less expensive. During the grinding process, a bean may pass through the blade numerous times and be chopped into fine pieces, whilst other beans may be less cut, resulting in an uneven consistent grind. The speed and blade produce static and heat, which alters the flavor of the bean.
If you are planning on grinding spices with a blade coffee grinder, make sure to clean the machine thoroughly after every use.
Burr Vs. Blade Coffee Grinder
Burr coffee grinders and blade coffee grinders differ in a number of ways, including the materials used to make the blades, the mechanism by which they spin, the amount of space they take up when in use, the price, how well they grind, how long they last, how often they need to be cleaned, and whether or not they have static-related issues.
| | | |
| --- | --- | --- |
| Differences | Burr Coffee Grinder | Blade Coffee Grinder |
| Affordable | | Yes |
| Consistency | Yes | |
| Grind Adjustments | Yes | |
| Speed | | Yes |
| Static | | Yes |
| Grind spices | | Yes |
Benefits Of Buying A Good Coffee Grinder?
Freshly ground coffee
Grind consistency
Alterations for a perfect brew and improving coffee quality
Flavor is preserved
Clean coffee
Control over the grind
Cafe like coffee at home
How To Clean A Coffee Grinder?
To clean the coffee grinder after using oily beans, run a cup of uncooked white rice through it. Rice is also non-toxic and chemical-free.
Use Urnex grinder cleaning product to clean your Burr coffee grinder and remove any coffee oil residue. Full Circle, a natural version, is also available. They are cleaning pills designed specifically for burr coffee grinders.
Set the grinder to a medium to coarse setting, then add one capful of the tablets, grind them through, then clean all the parts as usual with a brush. The tablets will sweep up any remaining coffee grounds in the machine and absorb any leftover coffee oils that would go rancid if left behind.
Also, read about How to Clean a Coffee Maker?
Frequently Asked Questions
How Fine to Grind Coffee In French Press Coffee Grinder?
Coffee beans should be coarsely ground when grinding them just before making coffee. The perfect flavor and taste of coffee is attained when coarsely ground, the coarser the particles, the better they are for the french press method of brewing. The coffee beans will still float in the french press jar even if they are medium ground instead of coarse, thus you won't get a good extraction.
Coffee Grinder Settings For French Press
French press coffee requires a coarser grind. However, coarse, medium coarse, medium, fine, ultra fine, and turkish grinds are all common. Coffee is ground into various textures depending on the brewing method: coarse for french press and cold brew, medium coarse for pour-over, medium(like sand) for drip coffee , fine for espresso and moka pot, and extra fine(like powdered sugar) for turkish coffee .