We all wish for coffee that has our daily dose of caffeine but no acidity. Full of flavor and bold. The rich finish and smooth mouthfeel. What else than a cold-brewed coffee?
Inarguably cold brew coffee makes your taste buds enjoy the taste and caffeine in coffee.
As the process to make cold brew coffee is the Immersion brewing method. A Mason jar or French press maker helps you make an aromatic cold brew coffee.
To fulfill the craving of your taste buds, with a rich body and smooth aftertaste, we need to use the best coffee beans for cold brew.
So, I have tasted, researched, and experimented with a lot of different Coffee beans to make my cold brew coffee.
Best Coffee Beans for Cold Brew
Finally, I have picked a list of the best cold brew coffee beans for you to try.
Out of the mentioned coffee beans list, I loved drinking Stone street cold brew reserve coffee and I highly suggest you give it a try.
Also, here are some of the other Best Cold Brew Coffee Beans.
1.Stone Street Coffee – Cold brew Reserve
2.Cold Brew Lab Coffee
3.Koffee Kult Dark Roast
4.Hugo Roasters Cold Brew Coffee
I also made a list of the best Cold brew Coffee Concentrate. Jump to Cold Brew Concentrate Section.
With varied flavor profiles and coffee origins. These coffees are recommended for you to give a try!
Quick cold brew tip: In the case of grind, size matters, and a little bigger is a lot better. In the case of water, choose a lower temperature and a resulting lower acidity coffee. Which makes a bigger, bold, and better flavor cup.

Shashi
1.Stone Street Coffee – Cold brew Reserve
| | |
| --- | --- |
| Coffee Brand | Stone Street Coffee |
| Roast | Dark Roast |
| Beans | Coarsely grind coffee & Whole bean |
| Origin | Columbian |
| Certifications | Organic, Rainforest Alliance, Fairtrade, Kosher, Recyclable |
| Available Cold brew Flavours | Regular, Blueberry, Caramel but, Chocolate, Chocolate Hazelnut, French Vanilla, Hazelnut, Vanilla Hazelnut |
We picked Stone street coffee because why miss a flavored cold brew coffee. Stone Street is available in both whole bean and cold brew grind. With an additional advantage of flavors in it.
Stone street roasts the best coffee from around the world. In both single and blend versions at turbocharged Brooklyn roastery.
Stone street finds the perfect source for the beans with quality assurance. And ensures the commitment to small-batch roasting. With this artisanal quality, stone street coffee gives paramount importance for its freshness.
Stone street gives cold brew coffee that isn't watery or bitter. Instead, you get a smooth coffee with low acidity.
Stone street cold brew reserve coffee can be used to make a hot brew coffee as well. Since it is a coarse grind, it is best used in a French Press or pour-over method.
Stone street coffee recommends a cold brew with a 4:1 ratio of water to coffee. Thus, for cold brewing 1 quart of coffee, please use 4 quarts of cold filtered water.
There is an expiration date on each bag which is 6 months after the roasting date. Stone street sends in fresh inventory to Amazon every 1-2 weeks to maintain a fresh level of inventory for cold brew coffee lovers!
Features of Stone Street Coffee – Cold brew Reserve
Comes in a resealable bag, Packaging 3-Layer Natural Kraft + Foil large bag. Includes a one-way degassing valve to maintain freshness & aroma
Less acidity, slightly sweet, smooth, well balanced with a bold coffee flavor
Giving special attention to the bean's origin & quality, grind size, & roast level. Stone street coffee maintains artisan quality.
What people are saying?
Tastes amazing, grind is perfect, super smooth
The wonderful, rich flavor from my percolator!
Lots of coffee flavor but no bitterness
Amazing dark roast – Wonderful cold brew
Pros
A smooth coffee with right amount of bitterness
Perfect coarse grind for cold brewing
A resealable bag!
Makes amazing toddy cold brew
Cons
Constant price increase
Mild flavor coffee
Stone street coffee is going beyond and paying a high price to get the beans right! These artisan quality beans make such a great difference in a cup.
We all know it, it's the beans that matter the most more than anything in our coffees. Stone street coffee is an amazing choice for people who love mild coffee.
If you love a pleasant cup of cold brew coffee, Stone street cold brew reserve is what you need. And, they have flavors to try in cold brew. So just grab, try and share with us your experience.
2.Cold Brew Lab Coffee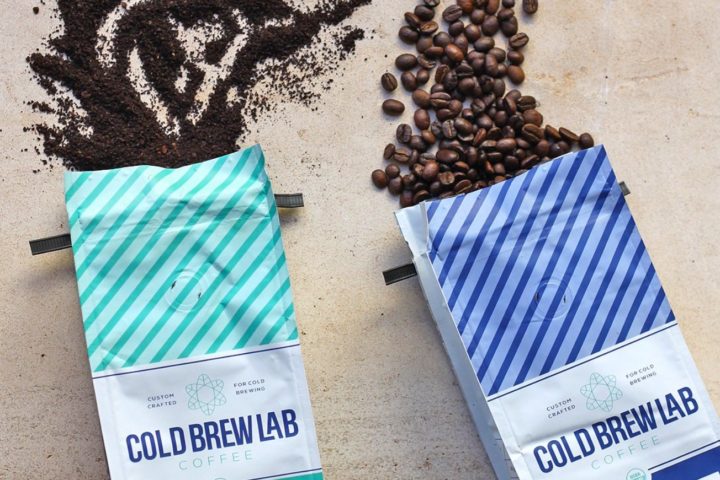 | | |
| --- | --- |
| Coffee Brand | Cold Brew Lab Coffee |
| Recommended Brew | Cold Brew |
| Roast | Dark |
| Grind | Extra coarse & Whole bean |
| Origin | Colombia |
| Beans | Specialty grade, 100% Organic Arabica |
| Flavor | Full body, Bold, Smooth and Less acidic |
How can we not pick cold brew lab coffee when it's organically crafted to make cold brew perfectly at home.
Cold-brew lab coffee sources, roasts, and blends beans specifically to attain the best cold brew extraction. Because of this defined process, the result is a full-body, low acidic, and smooth coffee in your cup.
Cold-brew lab coffee acquires a perfect blend by using both medium and dark-roasted coffee beans. Because of this blend, cold brew lab coffee creates an excellent roast level. This unique roast is how cold brew gets exceptionally smooth yet bold and flavourful coffee.
Cold-brew lab coffee is available as whole beans or freshly ground to extra coarse grind size in a 16oz bag. This right size for cold brew helps extract caffeine and the right amount of flavor.
Cold-brew can be made by using French press equipment or a Mason jar to get a low acidic, extra smooth flavor, slightly sweet, and no bitterness in your beautiful cup.
Features of Cold brew Lab Coffee
Custom crafted for cold brewing
Ethically grown and sourced
100% organic Arabic Colombian coffee
Proprietary roast blend – scientific roasting
Pesticide-free – USDA certified organic coffee
What people are saying?
Love it – non-bitter, robust flavor
Quality of cold brew lab coffee is very good, almost as good as freshly ground
Flavour is smooth and bold
Cold-brew lab coffee is smooth and delicious and makes an excellent Vietnamese iced coffee
Pleased with the refreshing flavor of these coffee grinds
Pros
Really solid cold brew
Low acidity, perfect flavor for cold brew, and so aromatic
The grind is perfect with very little dusting getting through the filter
Cons
A bit pricey
The packaging design is not great, the bag gets torn whilst shipping process
It feels like the sole purpose of Cold-brew lab coffee is to deliver an exceptional cold brew to its customers. From choosing the beans to adding two kinds of roasts and handcrafting them. Cold-brew lab coffee is taking care of every step to make a perfect cold brew cup.
We have to accept that the intention to make the best cold brew by Cold brew lab coffee is being highly successful.
We recommend you give this a try! Because it's definitely worth giving a shot!
3.Koffee Kult Dark Roast
| | |
| --- | --- |
| Coffee Brand | Koffee Kult Dark Roast |
| Roast | Dark |
| Beans | 100% Arabica beans |
| Origin | Colombia, Guatemala, Brazil and Sumatra |
| Body | Heavy and Bright |
| Flavor | Cinnamon |
| Specialty | Fairtrade |
Koffee Kult is a family-owned and operated coffee roaster that rose from the sands of Hollywood, Florida. Paying attention to quality and detail, roasting the best coffee beans has led to significant growth from a single small roaster to a new multi-roaster environmentally-friendly facility.
Koffee Kult organically sources fair trade coffee beans ethically sourced. A blend of coffee beans grown in Columbia, Guatemala, Brazil, and Sumatra. A perfect blend of beans for a perfect cup of coffee.
The Koffee Kult beans are process washed. The "washed" is the type of process used when turning the coffee from fruit to bean. Washed coffee generally has a more robust taste than the natural process which makes the coffee taste more fruity.
Koffee Kult Dark Roast Coffee uses the best specialty-grade sourced beans! Koffee Kult is an artisan-roasted coffee, These beans are roasted to perfection just before they are packed and shipped. These dark roast beans are packaged as whole bean coffee to ensure optimal freshness in a resealable coffee bag. Offering the consumers, to taste their coffee fresh.
Koffee Kult gives a pre-ground coffee perfect for espresso. We suggest you get a whole bean pack, grind it coarse, and voila! A cold brew coffee can be made. Koffee Kult Dark roast beans produce a strong, bold cup of coffee. But also lets you enjoy a smooth and clean tasting coffee.
Available in 12oz, 32oz, and 80oz sizes. If you would like a roast date on the package make sure to order the DS version for Direct Ship. The Prime version does not include the roast date.
Quick coffee tip: Coffee that is vacuum-sealed and contains no gas in the bag is considered stale.
Features of Koffee Kult Dark Roast
A whole bean coffee perfect for any grinder
Gourmet 100% Arabica beans
Fresh & locally roasted coffee beans
Every bag is consistently the same because of small-batch artisan roasting to perfection. And immediately packed after the roast to ensure the freshness of the coffee
A bold coffee but smooth and no bitter taste with low acidity. And a clean finish
These exotic raw beans are from around the world and are blended into precisely dark roasted coffee. Organically sourced, rich, smooth, full-bodied whole coffee beans.
Developed a blend of rainforest friendly coffee beans to ensure extraordinary quality
What people are saying?
New cold brew favorite!
Would recommend trying if you are looking for something easier on your stomach or just a good dark roast coffee!
This coffee is both bold and Smooth
Really good cuppa with no bitterness
Pros of Koffee Kult Dark Roast
Except 80oz bag, rest all come in nitro flushed resealable zipper bag
Arrives 2-4 weeks from the roast date
Quality cup of Coffee
Cons of Koffee Kult Dark Roast
The prime version doesn't include roast date
Great coffee, but a bit pricey
Delivers within 2-4 weeks of the roasting process. Koffee Kult has certainly made it clear to their customers, to provide only the best.
The freshness of the coffee is all we want in our morning cup! Koffee Kult is offering us what we want in a beautiful resealable bag.
Why not grab the opportunity and enjoy the beverage! We put forward to you, to give this fresh Koffee Kult a try! And do let us know if you love it too.
4.Hugo Roasters Cold Brew Coffee
| | |
| --- | --- |
| Coffee Brand | Hugo Roasters Cold Brew Coffee |
| Flavor | Chocolate, Nuts & Spice |
| Origin | Central Africa |
| Body | Strong, Bold, Rich & Smooth |
| Recommended brew | Both Hot and Cold brew |
| Speciality | Supports Dog rescues |
We picked Dog daze – Hugo Roasters coffee because their coffee beans are specially roasted and coarse ground for cold brew lovers.
Hugo's secret roasting process brings out the smooth tasting notes of chocolate, nut, and spice in every cup.
These handpicked and meticulously roasted beans are sourced from Central Africa. Roasted to achieve a refreshing cold brew coffee experience.
Hugo roasters coffee can be brewed both hot and cold. Giving a subtle, less acidic, and deeper flavor of homemade brewing.
Each bag of Hugo Roasters sold supports Best Friends Animal Society. Every time you drink a cup of Hugo Coffee, you're saving dogs too. 8% of proceeds from each bag of regular roasts and 10% of proceeds for cold brew goes to Best Friends Animal Society!
Hugo roasters dog daze ground cold brew coffee is available in a 16oz pack. Hugo roasters also offer cold brew coffee packs of 4oz each. Making it even easier for preparing and consumption.
Features of Hugo Roasters Cold Brew Coffee
Enjoy a cup and save a pup – every Hugo coffee bag sold supports dog rescue organizations. Hugo also collaborates with retail partners on adoption and educational events. Also holds their fundraising campaigns
A fresh quality coffee – committed to a fair trade manufacturing process to guarantee the health and happiness of everyone involved
Roasting and heating of beans are done organically using natural gas and infrared heat. Using less energy than traditional coffee roasters to create a more consistent result.
What people are saying?
Luckily, the Hugo roasters coffee is just as good as the "good boys" they're helping!
I like the flavor better when it brews in the refrigerator vs. at room temperature.
I like the flavor and aroma of this coffee – tastes Great Brewed Cold or Hot
Pros of of Hugo Roasters Cold Brew Coffee
I liked the fact that proceeds benefit shelter dogs
Rich flavor, very little acidity
Hugo Roasters cold brew coffee has my heart! Well, why not? Hugo roasters make a beautiful cup of cold brew that pleases my senses with fresh quality coffee. Also, help in dog rescue.
We suggest you give this a try! To feel fresh homebrew cold coffee flavor.
What Is Cold Brew Concentrate?
A Cold brew coffee concentrate is a sugar-free, dairy-free, gluten-free, and user-customizable caffeine beverage. Which can be conveniently enjoyed as a refreshing coffee beverage by adding Milk. Or Filtered water to make a cold brew coffee. Or Hot water and enjoy it as a hot coffee! A coffee concentrate is perfect to get your daily dose of AM caffeine. Saves a lot of your coffee brewing time. One concentrate, but your choice and your favorite beverage! Convenient and tasty!
What to do with cold brew concentrate?
Sip it straight, water it down, or milk it for all it's worth.
Best Coffee Concentrates For Cold Brew
Here we have listed the best cold brew coffee concentrates. All of these Cold Brew Concentrates taste good and give you the daily caffeine kick you will need.
These cold brew concentrates are easy to carry if outing. Easy to have a cup of coffee when on a busy schedule. Let's you decide if you want a stronger cup of coffee. Or if you wish to drink cold, hot, with milk or use it as espresso for flat white and lattes.
We loved drinking all these cold coffee concentrates. And, recommend you try Bizzy Organic cold brew coffee concentrate and enjoy strong yet smooth coffee. You will fall in love with cold brew coffee!
1.Chameleon Cold-Brew Organic Coffee Concentrate
| | |
| --- | --- |
| Coffee Brand | Chameleon Cold-Brew |
| Contains | Filtered water and Organic coffee |
| Quantity | 32oz |
| Beans | Coffee Concentrate |
| Flavors | Mocha coffee, Vanilla coffee & Black coffee |
| Roasting process | Small batch air roasting |
We picked Chameleon cold brew coffee concentrate. Because it makes drinking coffee even more enjoyable and easier. No steeping, no a night prior infusion. When you feel like drinking coffee, just add this concentrate to filtered water and savor!
The specialty grade coffee beans of Chameleon cold brew. A perfect grind and meticulous brewing process help you relish a balanced and bold cup of coffee.
Made with organic beans. With a commitment to consciously craft for a perfect brew every time. Chameleon uses a unique roasting process to deliver low acidity and smooth coffee. 
Chameleon cold brew coffee is sustainably sourced and certified organically. Which makes a naturally delicious cup of coffee.
As Chameleon cold brew is committed to long-term sustainability. It takes responsibility to protect places and people that grow coffee along with the planet and communities.
Chameleon cold brew is devoted to inspiring long-term economic, environmental, and social sustainability throughout the coffee supply chain.
They have recently begun working with newly formed female-led coffee cooperatives in Myanmar and Indonesia to empower these women through purchase contracts and additional voluntary investments.
What Is A Specialty Grade Coffee?
Coffee grown and produced all over the world is graded based on a 100-point SCA Coffee Scale. Coffee ranking below 79 points, doesn't qualify as a specialty grade and is used commercially. Coffee beans ranking at 80 points or higher are classified as ​"specialty grade".
SCA Coffee scale analyzes primary and secondary defects found while testing green coffee and takes into account the relationship between these defective coffee beans found in a harvest and the quality of the coffee.
Features of Chameleon Cold Brew
Organic specialty grade coffee beans
Helps empower women coffee producers
Organic coffee sustainability projects
Beans are never burnt during roasting because of small-batch air roasting
What people are saying?
Great tasting strong coffee
What makes it stand out is that it has no natural or artificial flavors added to it
Strong, dark, and rich, it works well mixed with water or milk.
Great for digestion/IBS – plus it's strong!
Pros of Chameleon Cold-Brew Organic Coffee Concentrate
Simply aromatic and clean black coffee
Easy to make!
Kosher certified
Comes in a glass bottle
Cons of Chameleon Cold-Brew Organic Coffee Concentrate
A little pricey for the quantity
Makes a bitter coffee, people prefer mellow coffee might not like it
Makes only 5 servings with 32oz concentrate
Friends coming over in? evening time or for brunch or you forget steeping coffee beans? The cold-brew coffee concentrate comes to deliverance.  
We recommend using Chameleon cold brew concentrate. We all know conversations over coffee are the best kinda remembrances. Have a coffee moment with Chameleon cold brew and let us know if you enjoyed it as we did.
2.Grady's Cold Brew Concentrate
| | |
| --- | --- |
| Coffee Brand | Grady's Cold Brew Concentrate |
| Flavor | Chocolate & Caramel |
| Quantity | 32oz |
| Specialty | Chicory in the blend, All-natural & Sugar-free |
| Contains | Water, Chicory, Coffee, Spices |
We had to choose Grady's cold brew because of the outstanding blend of coffee, chicory, and spices for its concentrate. If you love cold brew coffee but also are worried about caffeine? Grady's cold brew Concentrate might just be the one for you.
Grady's cold brew has chicory root added to it, chicory lowers the caffeine content in the coffee. The use of chicory is what makes Grady's coffee NOLA style and gives it a natural, subtle sweetness.
Grady's cold brew is a New Orleans–style cold brew. Available in a bottled concentrate. Grady's started brewing in 2011, roasted, blended, and brewed in NYC.
Each batch is made by steeping a special blend of freshly roasted coffee and chicory in water overnight, for 20 hours. Then removing the grounds using a two-step filtration process. Grady's cold brew results in a velvety smooth cup of coffee. With a creamy mouthfeel with chocolate and caramel tasting notes.
Grady's cold brew concentrate must be refrigerated before and after opening. Best before the date found on the lid of the bottle.
Ready to consume right out of your fridge
Brewed strong in small batches
Available in regular and decaf
Available as a concentrate in glass bottles and cartons.
Available as bean bags in containers to brew it yourself, pour & store kit
What people are saying?
The flavor is rich and the color is dark making it incredibly satisfying. I can not recommend this product enough!!
Love Grady's cold brew coffee. Rich, flavorful, and not at all bitter!
I need a constant flow of this delicious caffeinated nectar in my home
Pros of Grady's Cold Brew Concentrate
32oz of concentrate makes 8 cups of coffee
All-natural, sugar-free, soy-free, gluten-free, vegan, non- GMO
Available in decaf
Cons of Grady's Cold Brew Concentrate
Although Grady's cold brew concentrate is not available on Amazon, we had to include this. This was the best choice for people who love cold brew coffee yet want less caffeine. I'm confident that you will love this coffee, and can't recommend it more.
We would love to hear it from you, taste this incredible coffee and let us know what you think about Grady's cold brew concentrate.
3.Bizzy Organic Cold Brew Coffee Concentrate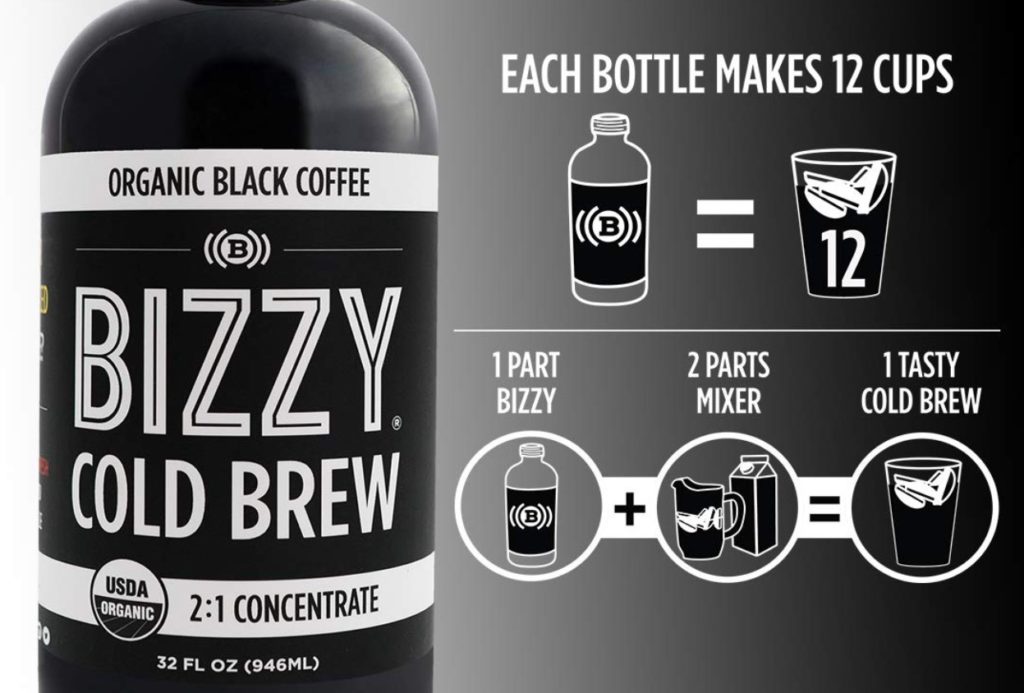 | | |
| --- | --- |
| Coffee Brand | Bizzy Cold Brew Concentrate |
| Beans | Coffee concentrate using 100% Arabica beans |
| Specialty | USDA organic coffee, Sustainably produced |
| Flavor | Black coffee |
Bizzy Organic Cold Brew Coffee is crafted to be strong using the best quality Arabica coffee beans from Central and South America.
Bizzy Organic Cold Brew Coffee is organic and ethically sourced – giving customers the highest quality, healthiest, and most convenient product on the market.
Bizzy cold brew concentrate needs to be refrigerated once opened. Until then store it at room temperature. The shelf life of sealed Bizzy cold brew concentrate is 6 months. Once opened, it must be stored chilled and consumed within 30 days.
Bizzy cold brew concentrate has no sugar in coffee or artificial flavors. Any consideration of flavor is simply defining the coffee's natural taste profile, not of extra ingredients.
If you follow the recipe as a 2:1 ratio and are making an 8 oz. glass with one part coffee and two parts water, it would be about 110-130 mg of caffeine per cup.
Bizzy concentrate and water. You can create the final product which best suits your desire. I use a tiny splash of water just to belay a little of the harshness. That's it – black – no cream or sugar. It's like a smooth, tasty espresso but with a considerable caffeine punch.
Each 32oz bottle makes 12 cups of coffee.
Features of Bizzy Organic Cold Brew Coffee Concentrate
USDA certified 100% organic coffee
Ethically sourced beans
Sustainably produced beans
Crafted for cold brew
A 2:1 concentrate ratio, which makes 12 cups of coffee for 32oz concentrate
What people are saying?
Quality product, good flavor – pretty good cold brew
Simple and easy
Pretty tasty and very convenient
Highly Recommend to Any Cold Brew Lover
One of the best-concentrated coffees on the market!
If you love strong smooth coffee don't pass this one up
Pros of Bizzy Organic Cold Brew Coffee Concentrate
Convenient coffee
Strong and full-flavored
Great coffee – great taste, rich profile
No bitterness
Cons of Bizzy Organic Cold Brew Coffee Concentrate
The Bizzy cold coffee's mission is to provide their customers a healthy and convenient source of caffeine for their busy lives – a delicious and quality cold brew coffee.
We Honestly think you should try Bizzy cold brew concentrate to relish the strong cold brew taste!
Taste all of the mentioned Cold brew Coffee brands and let us know how you feel. You will not be disappointed and also let us know if you like any other coffee better. As coffee admirers that we are, we would like to know if there are any that we missed!
What Is Cold Brew Coffee?
Cold Brew is a unique extraction technique. Which requires cold filtered water, coarsely ground coffee, and a much longer steep time. Cold brew coffee is an incredibly simple immersion brewing process to enjoy coffee. The coffee grounds are infused in water for 12-24 hours. Letting water absorb all the caffeine and result is a cold brew concentrate. When diluted, make cold brew coffee.
How does Cold Brew Coffee Works?
Cold brewing coffee is infusing coffee with water until the water takes up all the coffee taste. Generally, when coffee beans come in contact with hot water, it creates high acid levels in coffee. So, the acid level of a cold brew coffee is much lower than a decent cup of hot coffee.
Cold Brew Vs. Iced Coffee
Cold brew coffee and Iced coffee are two completely different caffeine beverages. Cold-brew coffee is a type of brewing method, which involves ground coffee steeped at room temperature or cold water for 12-24 hours. Whereas Iced coffee is a coffee beverage, which uses coffee concentrate as a major ingredient along with water and ice cubes.
A brewed coffee poured on ice cubes makes Iced coffee. Whereas a Cold brew coffee has to be made with a unique infusion technique for hours. Both the beverages are consumed cold.
However, cold brew coffee is not to be confused with iced coffee and blended drinks. We're not just adding ice to coffee. Cold brew coffee is a different procedure for making coffee. From choosing the beans to the aftertaste, everything is different between a cold brew coffee and an Iced coffee.
Since you will not be using hot water for extracting cold brew. And relying on the time the coffee is saturated. All the coffee flavor and all the dissolved solids are going to influence your cup. This is exactly why cold brew makes an excellent flavorful cup.
An interesting fact is that cold brew coffee can be used to make iced coffee. Just like how instant coffee can be used to make iced coffee, but not cold brew.
FAQ's About Cold Brew Coffee And Cold Brew Coffee Concentrate
Can You Make Cold Brew Coffee With Normal Coffee?
Cold-brew can be made with any regular ground coffee or coffee beans that you have at home. If the ground coffee is coarse. Or if you can grind your beans to coarse grind, works best to make cold brew coffee. If you have French press ground coffee, it works well for cold brew too.
Add this ground coffee to a jar and add room temperature or cold water. Let them be infused for 12-24 hours. And now, the cold brew is ready!
Cold-brew coffee has the most caffeine than hot brewed coffee. Because of the immersion technique used in making a cold brew coffee, all the time ground coffee is infused in water. Due to which water absorbs all the qualities of coffee, that includes caffeine.
Go for a cold brew coffee if you wish to consume a beverage loaded with caffeine but low acidity. And if you wish the opposite, a hot brewed coffee will be your go-to option. As hot brewed coffee has less caffeine and is more acidic.
Can Cold Brew Coffee Go Bad?
Cold brew coffee can unfortunately go bad. But there are things to consider before coming to this. If you do not feel that robust fullness, rich texture or caffeine kick when you took your first slurp. Do understand that it has gone bad.
Once the cold brew concentrate is made or the concentrate bottle is opened, when refrigerated stays good for a couple of days. But it starts to lose its texture, flavor and taste afterward.
Your search for the best cold brew coffee beans or considerably easier alternative, best cold brew concentrate is now completed. I'm certain that this list of the best coffee bean brands for cold brew will make you love your cold brew coffee, even more.