French Press coffee is by far one of the easiest coffee-making processes. It is one of my favorite ways to make a morning cuppa.
But to get an incredible coffee drinking experience, you need the best coffee beans.
I have gone through a variety of coffee beans and brought to you the list of the best coffee beans and coffee brands for French Press.
What Is The Best Coffee For A French Press?
The best coffee for a french press would be fresh and even coarse ground beans roasted for no more than 3 months. Using freshly ground coffee in an immersion brewing method traps the aroma and body of the coffee while brewing. Any coffee which meets these standards is considered to give you the best French press coffee. One such coffee is Peet's Coffee Decaf Major Dickason's Blend.
Here are my top Coffee beans for the French Press Coffee list.
I suggest you try Peet's coffee. For us, this one stands out amongst all these best coffees. I recommend you try some of these coffee beans for your French Press coffee and let us know which one you enjoy the most.
After thorough research, I have included several types of coffee beans in the list for every preference. Such as Decaf coffee, Bulletproof coffee, Flavoured coffee, Dark roast, Medium roast, Bold roast to fulfill every kind of coffee craving.
1.Peet's Coffee Decaf Major Dickason's Blend – Dark Roast Ground Coffee
| | |
| --- | --- |
| Roast type | Dark |
| Body | Full |
| Type | Signature Blend |
| Origin | Americas, Indo-Pacific |
| Process | Washed and Wet-Hulled |
| Flavor | Earth & Spice |
We love Peet's coffee beans because it combines and makes a perfect blend by using the coffee grown in the world's premier growing regions. Giving this blend is a smooth, balanced cup of coffee with distinctive regional characteristics.
Peet's decaf version of coffee brews the absolute finest decaf cup. It uses the same premium coffee beans as the original to create a blend that is full of flavor, body, aroma but without any caffeine.
Peet's selects the superb coffee beans from the very best farm source and craft roasts until possible to get the coffee taste like a real coffee. A bold flavor coffee without caffeine.
They mark the roast date on every bag for you to know exactly when it was roasted to give you an amazing Peet's coffee experience.
As we all know, coffee doesn't get better with age, instead, it gets stale.
Peet's coffee is available in two sizes at 10.5oz and 18oz is a dark roast ground coffee. A Latin blend with lively and sweet flavor notes.
Peet's Decaf Major Dickason's Blend coffee achieves its rich flavor because of the hand roasting process done in small batches and the strict standards maintained for its freshness. The direct contact method helps Peet's coffee to preserve the flavor but also decaffeinate the beans.
The press pot, or French Press, offers direct infusion for full-bodied coffee. It's an ideal companion for dark roasts, bringing out rich, complex flavors.
Features of Peet's Coffee Decaf Major Dickason's Blend
Hand roasted to order
Sealed for freshness – Sealed immediately after roast
Delivered fresh to you – Roasts and Ships the same day
What people are saying?
Very smooth but still a robust flavor with a citrus fruity back note
Can be used for French press, Drip coffee, and in Espresso machines
Makes an incredibly soft but bold cup of coffee
Peet's is the only dark roast that doesn't give heartburn
Pros
Great tasting coffee for dark roast decaf without any bitter or weird taste
Enjoy the fresh coffee because of the roast date and expiration date on the pack
A strong decaf coffee with a bold flavor
Makes wonderful cold brew coffee
Cons
A little pricey for a small bag
These are all the reason why we love Peet's Coffee to make a tasty cup of French Coffee.
2.Bulletproof The Original Ground Coffee – Medium Roast
| | |
| --- | --- |
| Roast type | Medium |
| Flavor | Cinnamon, orange, nectarine, and chocolate |
| Origin | Grown on high altitude estates in Guatemala and Colombia |
| Process | Thorough, sustainable washing and drying technique |
| Bulletproof process | Direct partnership with farms to ensure sustainable operations |
These Bulletproof Coffee Beans are meticulously grown at high altitudes on single estates in Guatemala, hand-harvested, carefully processed, handled, and roasted to maintain maximum integrity and flavor. The final roast then undergoes proprietary lab testing to verify that coffee meets the Bulletproof quality and purity standards.
What is a clean certified coffee?
A clean certified coffee is tested for impurities before it reaches your cup. This test for toxins helps keep your coffee pure and clean
Bulletproof coffee is passive organic, which is the same as organic with no sprays, no GMO. But has no USDA official organic seal.
The Bulletproof coffee has different kinds of roast as per the taste profile. The original is a medium roast that has cinnamon, orange, chocolate, and distinct notes of sweet plum. The original coffee blend is also available in decaf.
Bulletproof coffee is breakfast in itself. The quality fats from grass-fed butter and Brain Octane oil makes you feel full and energized for hours.
The roast of bulletproof coffee is medium roast so the caffeine content should be about in the middle of the averages. There is very little caffeine content difference between different single-origin, wet-processed, Arabica coffees.
Features & Benefits of Bulletproof The Original Ground Coffee – Medium Roast
Distinct notes of cinnamon, plum, and orange with a cocoa hazelnut finish
Clean coffee
Tested for toxins
Rainforest alliance certified
Bulletproof process
What people are saying?
Smooth tasting – no bitterness plus it is very satisfying
It's a winning combo: tasty coffee, daily caffeine, no inflammation
Organic and mold-free – cleanest coffee I've ever had and delicious!
But for what it's worth, after drinking for a week, my stomach did feel less irritated after my morning coffee
Pros
A dairy-free vegan coffee
Rainforest Alliance Certified using ingredients and best practices that support the farm, forest communities, and families
This self-starter drink adds a powerful core component to intermittent fasting, ketogenic diets helping you feel satiated, alert, and focused
Cons
This coffee is not for those of us who like a really rich, flavorful cup
Too light, can not enjoy the coffee flavor
An expensive buy
What is a Rainforest Alliance?
Rainforest Alliance means their manufacturing methods meet the ten standards that protect worker's rights, animal rights, conserves the ecosystem, and helps create a world where both nature and people thrive in harmony
3.Folgers Simply Gourmet Natural Caramel Flavored Ground Coffee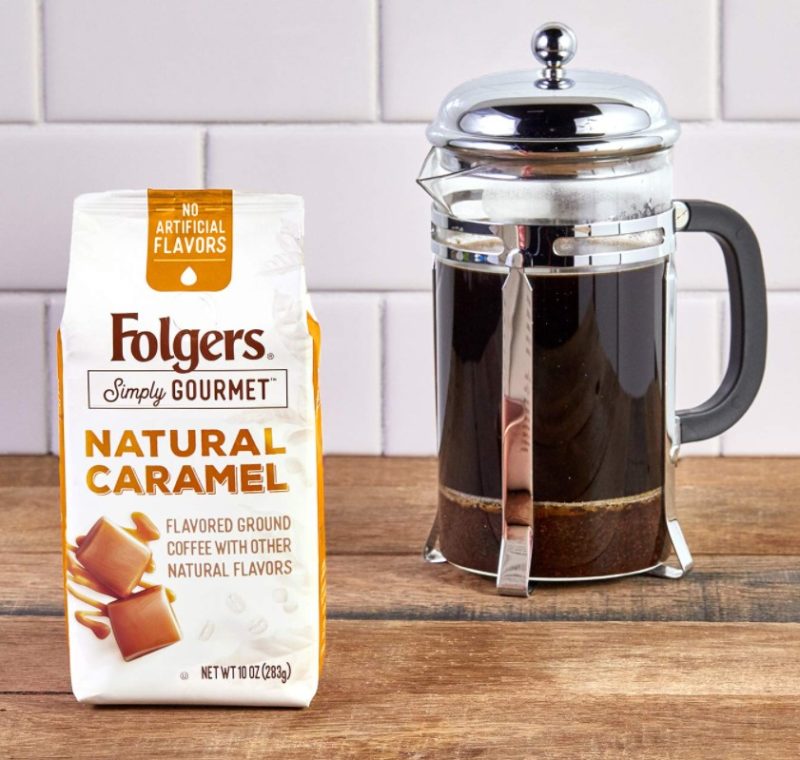 | | |
| --- | --- |
| Roast type | Roasted-to-perfection ground coffee combined with natural caramel flavor |
| Beans | Pre-ground for easy brewing |
| Flavor | Buttery, Caramelized Sugar |
We chose Folger's coffee beans to make one of the best french press coffee because of the natural flavors in it. For people who enjoy drinking flavored coffee, Folgers provides this perfect blend of 100% premium arabica coffee beans with natural flavoring.
After the coffee beans are roasted to perfection, the ground coffee is combined with an all-natural chocolate flavor. This natural flavor gives coffee an indulger taste and aroma. Folgers coffee can be enjoyed with various brewing methods including automatic drip, pour-over, and French press.
The naturally flavored coffee tastes buttery, smooth, and caramelized sugar. This coffee is delicately balanced and perfectly blended for an aroma that will instantly delight your senses.
Folger's coffee beans are roasted in New Orleans, Louisiana, and packed in a 10oz bag. pre-ground for easy brewing. An unopened coffee shelf life is 12 months from the date that is produced, which is reflected in the bag. Once opened, recommend to use it within 3 weeks when stored at room temperature or 4 weeks if stored in the refrigerator to enjoy the optimal freshness.
Folger's coffee beans contain 2-4 calories in a 6oz cup of coffee and 60-80mg caffeine per cup.
Features of Folgers Simply Gourmet Natural Caramel Flavored Ground Coffee
100% Premium Arabica beans
The perfectly balanced natural caramel flavor
Sold in convenient, reclosable bags
The delicious naturally flavored coffee on its own or with a touch of real cream and natural sugars
What people are saying?
This is the best caramel flavored coffee ever had
Robust with a whiff of chocolate!
Amazing taste and aroma
Great taste, not as sweet as anticipated. Which made it much better.
Pros
No chemical taste, no bitterness. It's mellow, not too subtle to differentiate the flavor, but not overwhelming either.
Beats the expensive brands with affordable price
No artificial flavoring
Cons
Does Not mention if it's gluten-free
We recommend all Hazelnut flavor lovers to try these Folgers Coffee beans to make French press coffee.
4.New England Coffee Hazelnut Creme – Medium Roast Ground Coffee
| | |
| --- | --- |
| Roast type | Medium |
| Process | Roasted with a time-honored tradition to create the Hazelnut Crème coffee |
| Origin | South and Central American |
| Flavor | Rich, nutty flavor, a smooth coffee experience with a hint of sweetness |
We picked New England Coffee Hazelnut Creme coffee beans as it's a family tradition coffee for more than 100 years. It is a premium coffee, time tested right in New England. Made of 100% arabica beans sourced from the finest coffee growing regions, Which are small-batch roasted for consistently balanced flavor every time.
What is the benefit of roasting coffee in small batches?
Roasting in small batches allows for better quality control and attention to detail. It is easier to watch over the roast and make adjustments as needed, giving you the best cup of coffee possible
New England Coffee is a blend of gourmet South and Central American coffee beans that gives a balanced sweet and nutty flavors. A perfect treat for people who prefer sweet coffee.
Hazelnut crèma coffee is a signature blend of 100% arabica coffee which is medium roasted featuring a rich, nutty hazelnut flavor with a hint of sweetness.
New England coffee must be sealed airtight to maintain the fresh flavor. Once the bag has been opened the coffee will be as flavorful for approximately 2 weeks or a little longer as long as the coffee is sealed airtight.
Approximately 6oz of coffee contains 4.5 calories and 70-110mg of caffeine. The flavor of the coffee is because of essential oils, other plant derivatives, and aromatic flavorings which are considered multi-component of flavoring ingredients.
Features of New England Coffee Hazelnut Creme – Medium Roast Ground Coffee
Ground Coffee made of 100% Arabica coffee Gluten-free and Certified Kosher ground coffee
Small-batch roasted for consistently balanced flavor every time
With the changing climate in mind. Sustainable Cup Project is designed to plant a better tomorrow Results provide social, economic, and environmental enhancements for farmers and their communities
What people are saying?
Excellent flavor, great smell
Smooth taste – great for after dinner
Tastes a bit nutty added to vanilla ice cream
Nutty creamy love!
Pros
The rich creamy flavor that just makes the start of every day much better
Fairly priced delicious coffee
A decent fragrance with a mild taste
Gluten-free and certified kosher ground coffee
Cons
Not keto-friendly
The mild flavor makes it a weak coffee
What is a kosher certificate?
Similar to Halal products, Kosher products follow biblical laws for Jewish people to consume food. These products are made by following kosher's certified orthodox compliance
All these reasons make New England coffee one of the finest coffee beans for french press coffee to buy.
5.Kicking Horse Coffee 454 HorsePower – Dark Roast & Whole Bean
| | |
| --- | --- |
| Roast type | Dark |
| Origin | Indonesia, Central & South America |
| Aroma | Cacao nibs, peat, and hints of nutmeg |
| Flavor | Heavy body, sweet tobacco, earthy with a black licorice finish |
We had to pick kicking horse coffee beans because of their dark roast heavy-bodied, earthy texture with a black licorice finish. There are cocoa tones and hints of nutmeg making it a delicious coffee. Kicking horse coffee only uses coffee that is certified good and fair for both coffee drinkers and farmers.
Fairtrade uses profits from coffee to empower farmers and to invest in their community's future
This certified organic coffee helps to pick the best in coffee with the best intentions for smart farming without sacrificing for the future. Kicking horse coffee is a socially responsible, committed community that uses unique Pantex technology to get silky, complex, and wild berry syrup with a smooth cocoa finish.
Coffee beans are selected from Indonesia, Central & South America to give velvety, earthy, and smooth coffee. And roasted in the Canadian rocky mountains, it's a shade-grown coffee to get desired deep, dark, and delicious coffee.
What is shade-grown coffee?
A shade-grown coffee bean means farming which is produced under a canopy of trees. A set of specifically selected canopy trees are used to cultivate the plant organically
Recommended brew methods for this coffee are french press, drip coffee, pour-over, and cold brew. Available in 2.2lb & 10oz whole bean and 10oz ground size.
The French Press is the French-kiss of coffee brewing. It enables a more intimate experience with the flavor of the beans. Low-tech and time-honored, just grind, pour and plunge. The result? A simple method and deliciously complex cup.
Features of Kicking Horse Coffee 454 HorsePower – Dark Roast & Whole Bean
Whole bean coffee
Organic Biologique
Fairtrade equitable
USDA Organic
Kosher certified
What people are saying?
Go for it if you prefer a strong and bold coffee
It works great and makes a really pleasant, rich cup of coffee
Lush, aromatic roast with smooth finish and hints of chocolate
Great decaf especially if you are sensitive to acid
Good for a sensitive stomach!
Pros
Comes in a decaf version too
Organic coffee
Shade-grown, Fairtrade, Kosher certified Arabica coffee
Climate pledge friendly
Cons
There is no roast date printed on the pack
Try the Kicking Horse Coffee brand for French press coffee, and let us know how much you like it.
6.Illy Intenso Ground Drip Coffee -Bold Roast & Intense
| | |
| --- | --- |
| Roast type | Dark |
| Body | Intense and full |
| Flavor | Notes of cocoa and dried fruit |
| Type | Signature blend, blending of 100% sustainably-grown Arabica beans, meticulously selected from different growing regions around the world |
This consistent, balanced, and smooth authentic Italian coffee Is made by skilfully blending 100% sustainably-grown Arabica beans selected from different growing regions around the world.
An intense and full-bodied, bold roast coffee has a pleasantly robust finish, with warm notes of cocoa and dried fruit.
Using an exclusive method, illy coffee is packed in an air-free, pressurized can. Which enhances and seals all the precious aromas and oils, so you enjoy the freshest taste.
Illy drip coffee is more coarsely ground for optimal extraction with drip coffee makers and French presses. We recommend illy Ground Drip Coffee for the Automatic Drip and French Press coffee machines.
Illy coffee cans and tins are made from 100% recyclable metal. Illy uses the Swiss CO2 decaffeination process, so there are no harmful solvents or additives. This is why their decaffeinated coffee tastes so good.
Features of Illy Intenso Ground Drip Coffee, Bold Roast, Intense
World's Most Ethical Coffee – illy caffè was named on Ethisphere's list for the seventh consecutive year, among just a handful of honorees in the beverage industry
Unique Pressurized Coffee Packaging
Composes of 9 of the finest Arabica coffee sources worldwide
What people are saying?
Strong Flavor, Never Bitter
Extremely rich and smooth flavor
Good flavor for a reasonable price
This is such a good coffee!! It works well in the French press
Pros
Preservative-free
Taste bold and strong in caffeine
The darker the roast the less acidic coffee
Cons
It Will not work in Keurig reusable filter! Too Fine of grind
You can buy Illy Intenso Ground Drip Coffee beans for french press coffee.
7.AmazonFresh Colombia Ground Coffee, Medium Roast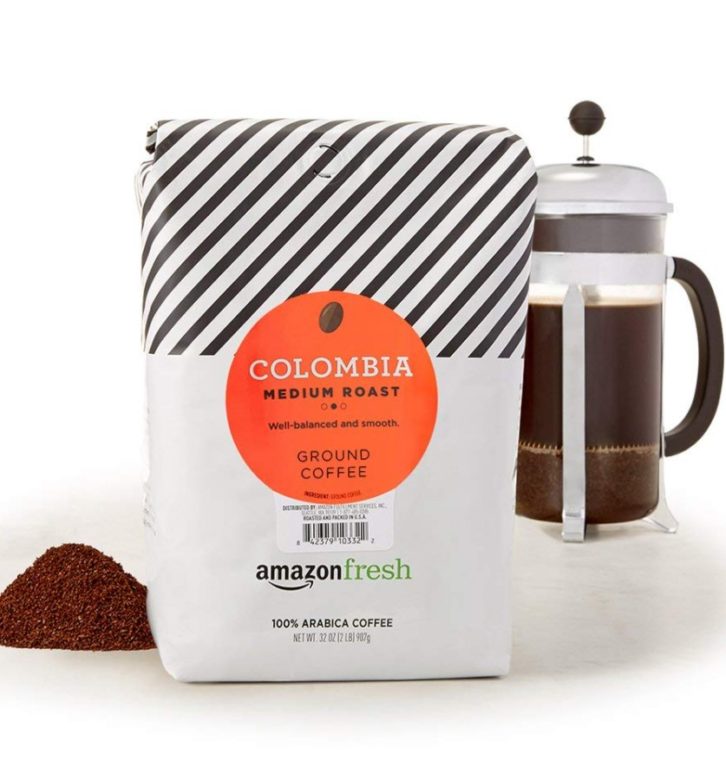 | | |
| --- | --- |
| Roast type | Medium |
| Origin | Colombia |
| Body | Balanced, full-bodied & smooth finish |
| Flavor | Subtle citrus aroma and hints of cocoa and brown sugar |
We picked this one because it surely is the best buy from Amazon and budget-friendly too. This coffee is a medium roast ground coffee, made with high quality 100% Arabica beans grown in Colombia. Which are skillfully roasted and immediately packed for freshness.
Coffee feels full-bodied with a smooth finish, this well-balanced cup has a subtle citrus aroma and hints of cocoa and brown sugar. Available in 12oz and 32oz pack sizes.
Features of AmazonFresh Colombia Ground Coffee – Medium Roast
100% Arabica coffee
Roasted and Packed in the USA
An Amazon brand
What people are saying?
Not premium coffee by any stretch, but at the price, it is one of the best and most consistent options you can get
Great tasting, quality coffee
Great for Cold Brew
Pros
Great value for money
Has a wonderful earthy roasted flavor and is not acidic too
With prime, you have no shipping charges
Cons
Not the best medium roast available in the market
Tastes bitter, avoid if you don't prefer a little bitterness in your cup
What Is The Best Grind Size For French Press?
The best grind size to make a French press coffee is coarse, even ground coffee. Also, choosing fresh beans makes a huge difference. Fresh beans coarsely grounded makes a perfect cup of coffee. Coarsely ground coffee has no fines in it. This is exactly why choosing a coarse grind helps you drink a clean cup of coffee. And, less likely to get a cloud formed or muddled flavors in your cup.
Also, the French press uses the immersion brewing technique. Which helps water to extract for longer than other brewing techniques. Coarse grind coffee helps for slow extraction of coffee. If the grind is too coarse or the contact time is too short, the resulting coffee will be weak and sour.
"The French press is one of the most tolerant ways to make coffee. A long infusion time makes it easy to get a good extraction." – James Hoffman
That's all about the best coffee beans for French press coffee. Do let us know what's your favorite Coffee brand for French press coffee.
Tips To Make A Better French Press Coffee
This classic method of French press brewing makes an amazing cup of coffee. Few things that you need to make a French press coffee are some fresh coffee, preferably a whole bean, a grinder, a timer, and the French press. But to get a perfect cup make sure you follow these tips to make a great cup every time.
1.Choose Fresh Coffee Beans
Choosing fresh coffee beans makes drinking coffee an incredible experience each time. The fresh beans roasted no more than 3 months before consumption are the ones to go for. Fresh coffee beans have all the rich aroma and flavor trapped in them. The whiff, first sip, mouthfeel, and after taste is just going to make your day.
2.Buy a Good Grinder
Not buying a good grinder can be considered the silliest mistake that we can do! A good grinder is certainly the most important factor. The size of the coffee beans, how the coffee beans are ground makes your coffee taste different.
You will need a solid burr grinder that crushes the beans into consistently sized particles. A well-built electric burr grinder suited for brewing starts at about $100.
Having a grinder at home makes it possible to grind your coffee beans just before you want to brew it.
3.Grind The Beans When You Wish To Brew
The volatile flavors and aromatics concentrated inside a coffee bean are exposed by grinding. When you make coffee, you are dissolving a portion of the bean's solids in water. By crushing coffee beans into small pieces, you have better access to those tasty solubles.
Grind just before brewing and you have a good chance of getting most of them into the cup. grind 10 minutes ahead and a noticeable amount of flavor will have dissipated.
4.Evenly Coarse Grind Beans
For french press coffee, choosing a coarse grind is a must. As the French press is an immersion brewing method. We know that the extraction time of coffee defines the taste of the coffee.
5.Look For Quality Water
Your coffee has 98% of water. Choosing the best possible water makes your coffee taste significantly different.
Coffee brewing water should be fresh to smell, taste, look, and clean. Also, which balances all the minerals in it.
Alkaline water has carbonates, magnesium, and calcium. These minerals make coffee taste much better. However, too high alkalinity prevents you from tasting acidity in coffee even when it is present in coffee. Making the taste of coffee dull, flat, and earthy.
On the other hand, low alkaline water makes coffee taste vinegary and sour. Acidic water is bad for extraction but good for flavor.
Simply put, go for alkaline water to drink an incredible coffee but, if you are serious about making it the best possible, there are kits available to test the minerals in coffee.
6.Temperature Of Water
Recommended water temperature is anywhere between 195 – 205 degrees Fahrenheit. The temperature of the water determines the extraction rate of coffee. If the temperature of the water is more, it results in over-extracted coffee with a bitter taste. But also, keep in mind if the water temperature is low, it gives an under-extracted coffee.
Also, the difference in taste is because heat affects oxygen. Making coffee bitter if the water temperature is not monitored.
7.Measure Coffee and Water
Measuring coffee and water is absolute as per individual liking. However, try the 1:12 ratio for the French press. For 350grams of water, you will need 30grams of coffee.
Once you try this ratio, alter the proportion as per your preference by increasing the coffee quantity.
8.Preheat The French Press Coffee Maker
The water you are going to pour will be hot and the equipment cold. To avoid the temperature fluctuations from affecting the coffee taste and to not let extraction delay. This step is essential.
9.Stir
When you stir, grounds fall out of suspension and the extraction slows considerably.
10.Plunge slowly
Plunge slowly making sure all the coffee granules are pushed down to get a clear coffee. This is exactly why choosing coarse grind coffee is vital.
If the coffee granules are too small, it would become difficult to get a clean coffee out of the French press. A filter becomes a must if the granules are not even coarse grind.
11.Pour coffee out of the carafe
Pour the coffee out as soon as the coffee is done, so the coffee doesn't keep extracting further.
FAQ About Best Coffee Beans For French Press Coffee
Can you use regular coffee in a french press?
Regular coffee can certainly be used in a French press, however, keep in mind that the French press uses an immersion brewing method. So, any regular coffee which is coarsely ground will make quite perfect coffee in a French press. It is an advantage if the coffee you have is freshly ground.
That brings to the question, you need to know
Why should we use a coarse grind for the french press?
French press coffee requires an even coarse grind coffee because of two reasons, which are the brewing method and to plunge after brewing. An even coarse grind coffee contains no fines, saving you from drinking a clouded or muddled coffee.
The two reasons to have a coarse grind coffee for a French press.
The first reason being the brewing method. A French press uses an immersion method, which means ground coffee is in contact with water for a longer duration and that's how flavors and aroma from it are extracted. Along with the acidity and body of the coffee. If fine ground coffee is in contact with water for that long it produces a bitter coffee.
The second reason is to easily plunge and relish the coffee.
Sources: