Has acidity kept you away from coffee? Do you know coffee stimulates discomfort in about 68% of people who suffer from acid reflux or GERD every day?
The Acids in coffee can have pesky side effects, which can cause acid reflux. Though there are ways to reduce acidity in coffee, its better to choose low acid coffee beans.
The Low acid coffee brands focus on the science behind the bean. Which is the pH of the bean and the flavor aspect of the cup. A pH-balanced coffee is a healthier alternative for a sensitive stomach. The coffee industry bases that a standard low acid coffee requires a pH of 5.5 or higher.
If you think you cannot drink coffee because of your sensitive stomach. Let me give you the list of the 11 Best low acid coffee brands for acid reflux for you to think otherwise.
Furthermore, understand what is low acid coffee and have a look at buyer's guide to pick the best coffee right for you.
1. Tyler's Organic Coffee – Best Acid Free Coffee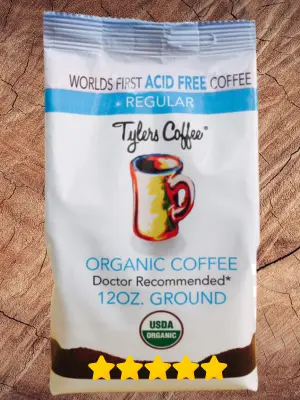 Why Choose Tylers Coffee?
Acid-free coffee
Smooth, bold and full-body flavor
Certified Organic coffee
The caffeine content of coffee is double the amount of a regular cup of coffee.
Available in pods for Keurig brewing.
Pros
Works best for Acid reflux
No complaints of heartburn
Cons
Bland & Weak Coffee
No return/replace option
Constant increase in price
Tyler's coffee claims to be the world's first acid-free coffee. Made using 100% Arabica coffee beans, single-sourced from USDA Organic certified coffee plantations.
With the smoothest flavor profile and health benefits that even doctors recommend for people with acid reflux. Tyler's coffee has substantial tolerability for a sensitive stomach.
Tyler's coffee uses a roasting method that is all computerized and monitored. Using all-natural methods and carefully monitoring each batch's freshness and consistency to maintain the same result.
The pH of Tyler's coffee using alkaline water is 7.2, and the same with purified water is 6.2. This pH level is much closer to the pH of regular water.
Tyler's coffee makes the robust, boldest, smoothest cup of coffee and is easy on the gut.
Tyler's Coffee decaf is a low acid organic coffee blend, some individuals enjoy drinking it even with severe acid reflux. Tyler's decaffeination process is also all-natural. The process reduces acidity in superior quality beans and makes it the healthiest Low acid coffee.
So rest assured you have arrived at a perfectly balanced low acid coffee brand for acid reflux.
Also, this decaffeinated low acid coffee has 99.8% caffeine-free coffee.
2. Lucy Jo's Mellow Belly – Best Budget Low Acid Coffee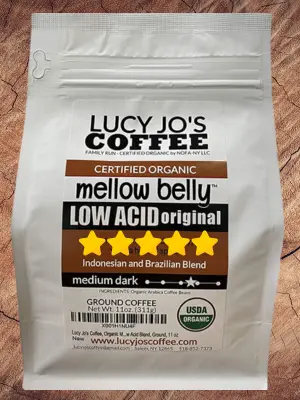 Why Choose Lucy Jo's Coffee?
Certified organic coffee
Smooth, sweet, nutty & earthy flavor
Available in a lot of flavors just for the consumer's taste. Lucy Jo's has a choice of Ground, Whole Bean, decaf
70% Less acid than a regular cup of coffee
Pros
Great coffee taste
Stomach friendly
Cons
Difficult packaging design
Expensive Coffee
Lucy Jo's coffee is good stomach-friendly. Lucy jo's sources the best quality pure Arabica organic green coffee beans to meet the health concerns of customers.
Especially for people with acid reflux and a sensitive stomach.
The low acidity comes from the peculiarity of the bean. Lucy-Jo takes care of the origin, altitude, soil type and other natural features that affect the acidity of the coffee bean.
Lucy jo's coffee has 70% less acid than regular cups of coffee to help the customers with the best low acid taste and sensitive stomach.
Roasting is done in small batches, and delivering the freshly roasted coffee beans can retain optimum flavor until consumption.
Lucy Jo's uses medium to dark roast coffee beans that taste sweet, earthy, smooth and full-bodied.
And options like morning blend or beans grown at different places like Sumatra, Indonesia, Brazil & Peru.
This mellow, smooth cup of coffee has the fantastic smell of freshly ground coffee beans. You will absolutely love this coffee smell.
Lucy Jo coffee makes a difference right away with its bold but balanced flavor for your morning coffee. Kicks you precisely like a regular cup of coffee.
When brewed using alkaline water, the pH of Lucy Jo's Organic Mellow blend comes up to a pH of 5.7. And pH of the French roast comes up to 6.02.
3. VitaCup Perfect Coffee – Best Low Acid Instant Coffee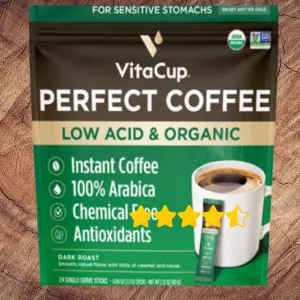 Why Choose Vita Cup Coffee?
A Stomach friendly and teeth-friendly coffee
100% Organic dark roast beans
Silky smooth and robust flavor
Mycotoxins, pesticides and chemical-free coffee
Third-party lab tested
Keto-friendly, vegan coffee, Paleo and Whole 30 diet-friendly
Rich in antioxidants
Pros
Convenient for traveling
Great flavor
Instant low acid coffee
Cons
Save your morning and start fresh and strong with a robust vita cup low acid instant coffee.
Packed with single Origin premium quality USDA organic arabica Mexican coffee beans.
A chemical-free coffee that never uses artificial ingredients or flavors and is third-party lab tested to ensure every cup of coffee is pesticide-free.
It can be made using hot and cold water. Mix instant coffee thoroughly with water and drink within 15 minutes for the best flavor.
Vita Cup Is available in wide varieties of coffee In the ground, whole beans, organic coffee and instant coffee sticks for your choice.
Every instant stick has approximately 77mg of caffeine.
The pH levels of the coffee are said to be 10 to 18% lower acid levels compared to the competitors in the market. But the specific pH level determined by Vita cup instant Low acid coffee is 5.76.
4. Lifeboost Single Origin Coffee – Best Tasting Coffee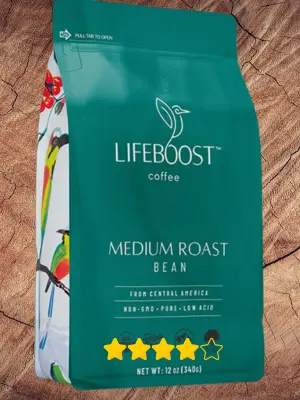 Why Choose Life Boost Coffee?
Sustainable farming and environment-friendly
Third-party testing for toxins
A chemical-free coffee
USDA organic coffee
Contain antioxidants
Pros
3rd party tested and verified
Shade grown coffee
Cons
A single-origin Low acid coffee beans from small farms of Nicaraguan highlands. Grown at high elevated areas in the shade.
The company uses high-quality Arabica beans that are grown without pesticides. The coffee beans are certified bird-friendly, organic, and Fair Trade.
Naturally grown to full maturity, handpicked, sun-dried, and spring water washed before roasting. Letting the bean grow naturally and mature helps the coffee bean acquire a desirable flavor.
The life boost low acid coffee has different flavors roasted for the cleanest, purest and healthiest coffee.
The pH of Life boost Low acid coffee level is about 6 on the scale.
5. Healthy Bean Coffee – Best Low Acid Morning Coffee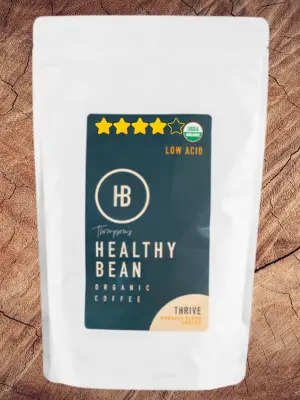 Why Choose Healthy Bean Coffee?
Organic mold-free coffee
Low acid medium roast
9X more antioxidants
Smooth, rich flavor
Non-GMO
Pros
Fresh coffee smell & color
Works great for sensitive stomach
Cons
Bland taste
Expensive coffee
The healthy Bean low acid coffee is specially made for the morning roast and is low in acid. And gentle on the digestive system to help with sensitive stomachs.
The specific roast of healthy bean coffee provides us with a perfect morning blend.
Also, Organic certified mold-free and mycotoxins-free clean and healthy cup of coffee
The specialty grade coffee beans and proprietary roasting process lowers the acid content of the coffee bean by 5 times.
The pH level of healthy bean low acid coffee is less than a regular cup of coffee. Because the coffee is up to 50% lower in chlorogenic acid. The exact pH level has not been declared.
6. Healthwise Coffee – Best Low Acid Colombian Coffee
Why Choose HealthWise Coffee?
Available in k cups
Mellow and rich flavor
Kosher certified
Less aroma
Pros
Smoothest low acid decaf coffee
Water decaffeinated
Cons
Healthwise coffee uses the highest-grade Colombian supremacy coffee beans.
Colombian coffee is considered one of many world's best coffee.
Healthwise, coffee uses a techno roasting process. A unique chemical-free technique that seals the essential minerals, vitamins, antioxidants and micronutrients.
The roasting process ultimately neutralizes the excess acid and bitterness without sacrificing the taste.
When used with alkaline water, the pH of a healthwise coffee comes up to 6.18, which is closer to the pH of water which is 7.
Healthwise coffee uses a Swiss water decaf process and makes sure the coffee is 99.9% caffeine-free. Healthwise, decaf coffee is currently the number one low acid decaf coffee.
I highly recommend healthwise decaf coffee for people with sensitive stomachs. This coffee is the perfect solution for people searching for low acid decaf coffee for acid reflux.
7. Puroast's House Blend – Best Low Acid Coffee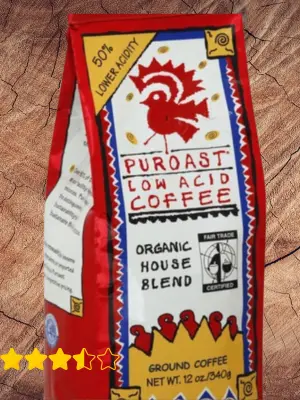 Why Choose Puroast's Coffee?
Smooth, never bitter coffee
Beans are shipped the same day as roasted
70% lower acid levels than regular coffee
Bland taste
Pros
Easy on the stomach
Fair price
Mellow flavor
Cons
Puroast's Low Acid Coffee advertises their never bitter low acid coffee. And it is correct.
The Puroast coffee beans come from Peru, Colombia, Honduras, Guatemala, Mexico and Nicaragua. Purest has 70% less acid than any other competitors, with a smooth and less bitter taste of coffee.
The secret is in the roasting. The innovative roasting process used by Puroast makes the roast perfectly done for the low acid quality. And gets the best out of the bean.
Puroast coffee is exceptionally fresh when received because the coffee is shipped the same day that it is roasted. After brewing with alkaline water, the pH of Puroast low acid coffee comes up to 5.99.
For a pocket-friendly option with 70% less acid, Puroast is the best idea. Try this and share the benefits of drinking a low acid coffee with your friends.
8. Mommee Coffee Decaf – Best Low Acid Decaf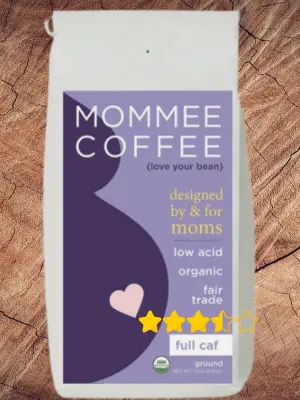 Why Choose Mommee Coffee?
An excellent option for the pregnant woman
Low in chlorogenic acid
Has options of different caffeine levels
Not a lactation coffee
Dark roasted low acid coffee can taste burnt
Pros
Chicory coffee
Best option for women during motherhood
Cons
Burnt taste
Packaging needs to be improved
Mommee coffee has an outstanding balance between caffeine and acidity. Specially made for pregnant women but can also be consumed by people who prefer low acid coffee.
The coffee uses a slow roast method to help people with sensitive stomachs.
But also includes a great deal of caffeine punch in every cup. Mommy coffee is excellent for people for every stage of pregnancy, including conception, pregnancy and breastfeeding.
Mommee Coffee is one of the most incredible options available for pregnant people, keeping in mind the health of the mother and the baby.
A rough approximation of the amount of caffeine in a typical 8 oz cup of Mommee coffee is 100 mg in a full caf, 50 mg in the half-caf and 2 mg in a decaf cup.
The pH of Mommee low acid coffee ranges between 5.8 to 6. The pH of a decaf coffee is 6.
Also, Mommee coffee has half the chlorogenic acids compared to a regular coffee's chlorogenic acid levels.
I suggest Mommee coffee for pregnant women because of the lowest chlorogenic levels present in the coffee.
9. Tieman's Coffee – Best Fusion Coffee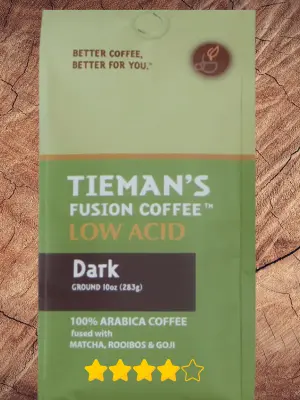 Why Choose Tieman's Fusion Coffee?
More antioxidants than a regular cup of Coffee
Rich, bold & slight sweetness
And innovative fusion coffee
Stomach settling benefits
Pros
Unique nutty flavor
Healthy, mild and pleasant drink
High in antioxidants
Cons
Tastes like herbal tea
Doesn't feel like drinking coffee
Tieman's Fusion Coffee is a delicious low acid fusion coffee brand.
Tieman's fusion coffee is loaded with antioxidants and other significant components. The selection of quality Arabica beans infused with matcha green tea, rooibos red tea and Goji berry powders.
This innovative coffee is packed with an excellent opportunity to create a better cup of coffee with more incredible health benefits.
Using tea herbs and other natural ingredients with coffee is a great idea.
This fusion helps a person get around five Times of the body's daily requirement of antioxidants protection.
Tieman's fusion coffee is a lower acid ultra-smooth coffee with stomach-settling flavors and benefits.
Fused with Matcha Green Tea, Rooibos Red Tea, and Goji Berry powders, this combination of ingredients is perfect for coffee's smooth and creamy flavor.
Due to the anti-inflammatory properties of the herbs, it helps people who suffer from acid reflux or sensitive stomach issues.
The pH level of Tieman's fusion coffee ranges at a pH of 5.84.
10. Simpatico Coffee – Best Farm Direct Coffee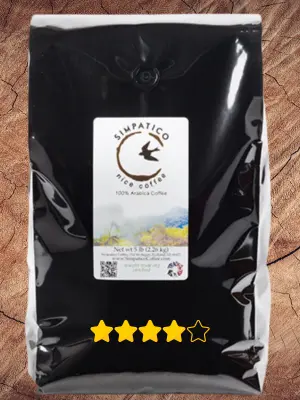 Why Choose Simpatico Coffee?
Available in medium, dark, black & tan & extra dark roast
Sweet, toasty with mild chocolate flavor
The unique roasting process to reduce acidity unique roasting process to reduce acidity
Pros
Great aroma
Organic low acid coffee
Cons
Dark ground coffee beans of simpatico low acid coffee are naturally Low in acid, and the unique roasting process further reduces acidity and helps for acid reflux.
Simpatico low acid coffee has a hundred percent coffee and is hundred percent natural.
Simpatico low acid coffee uses quality grade organic certified arabica beans. The secret to low acid in Simpatico coffee is the beans are wild shade Grown, which are harvested using traditional methods in Mexico.
Simpatica uses a natural habitat of the wild in the dense jungle system to grow the coffee beans. Grown under the natural forest canopy keeping the entire wild ecosystem intact. A natural way to fight off the pests & weeds.
The farmers pledged not to use pesticides, Herbicides or Synthetic fertilizers.
Simpatico values and honors the earth by conserving and protecting its resources.
It uses a low emission revelation roster to roast the beans in small batches and ship them at the freshest possible date.
The pH of a Simpatico dark roast low acid coffee test at 5.91. That of a medium roast low acid coffee comes up to 5.75.
11. Cafe Don Pedro Brew Cups – Best Low Acid K Cups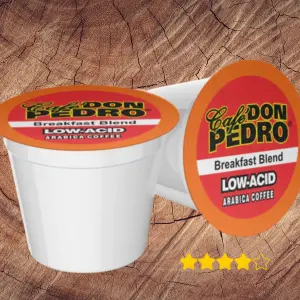 Why Choose Cafe Don Pedro K Cups?
Stone ground for unique taste
A smooth, bold and aromatic flavor
Available in six different flavors
Gourmet coffee and k cup
It can use in all Keurig and other k cup brewing machines
Kosher certified
Pros
Low acid k cups
Good taste
Cons
Bad cup quality
Unresponsive seller
The Cafe Don Pedro selects Green beans naturally lower in acidity, and the most significant difference comes from the way the coffee beans are roasted.
Don Pedro uses a traditional artisan roasting method And removes the chaff, which results in smooth paste, low acid coffee and high mineral coffee.
It's a chemical-free coffee that does not affect the caffeine level and the flavors of the cup.
Each coffee pod is filled with more grounds than the competitor's low acid coffee brands to ensure Rich Bold flavor.
The coffee results in a delicious, balanced and lower smooth acidity cup without bitterness.
Each k cup contains 95 mg of caffeine. The k cups will work on both 1.0 and 2.0 Brewers.
Cafe Don Pedro Says that it has a pH level much closer to water, but the exact value is not provided.
Buyers Guide: Low Acid Coffee Beans For Acid Reflux
Low acid coffee helps you with the adverse side effects of the coffee, like acid reflux or an upset stomach. Because of how it is processed, it is challenging to find a well-treated and highly delicious coffee with low acids.
The region determines acidity in the coffee bean, where the coffee plant is grown, soil and elevation.
Coffee grown in the higher elevated areas tends to be more acidic in flavor.
The strong acidic flavor can be described as citrus, and the low acidic flavor might be described as an earthy flavor.
Most low acid coffee has a bold but earthy flavor packed in the bean.
The tannic acid or lipid acid present in coffee beans is essential for coffee plants but is worse for the body. These acids act like pests to the plant but create acid reflux in humans.
The location in which they were grown has a significant impact on the acidity of coffee. Fine-grade arabica coffee beans are grown at high altitudes with rich soil and are a great source of low acid coffee beans.
To get a low acid coffee, choose naturally low in acid coffee beans from places like Indonesia, Ethiopia, South America, Central America, and India. And roasted in small batches to attain even lesser acid levels.
The best low acid coffee brands acquire beans from Arabica coffee plants grown at low elevations.
I hope you enjoyed this specially tested and curated list, for every individual's preference of the best low acid brands for acid reflux. From acid-free coffee to instant, decaf low acid coffee and k cups, I covered it all for you. Waste no more time drinking your coffee which is not gentle on your stomach.
Best Regions For A Low-Acid Coffee
The coffee industry is restored with carefully grown coffee from premium quality Arabica coffee beans in different places. These regions are popular for growing low acid coffee beans.
1. Puerto Rico
The two primary growing regions on the Caribbean island are Grand Lares in the south-central part and Yauco Selecto in the southwest.
Both regions are remarked for their bean's balanced body, acidity and fruity aroma.
2. Colombia
Colombia is likely the world's best known coffee producer and ranks second worldwide.
An increased standard of goodness is maintained by carefully cultivating thousands of small family farms.
The result of such care & attention is invariably good, mild coffees with a well-balanced acidity.
Colombian supremo is the highest grade of coffee beans grown.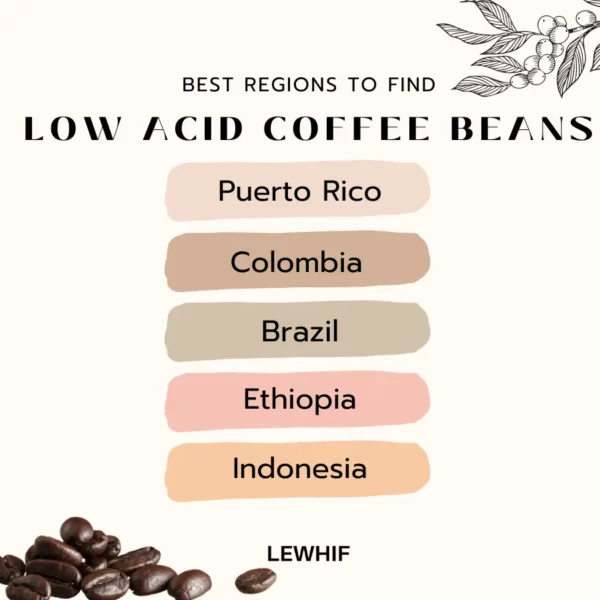 3. Brazil
Brazil is the biggest coffee-producing country in the world.
Brazil's coffee plantations usually cover vast land areas and produce extensive coffee.
Both Arabica and Robusta grow in Brazil.
The climate, soil quality and altitude define which type of bean will grow best in which region.
A fine cup of Brazilian coffee is clear, sweet, medium-bodied, and low in acid.
4. Ethiopia
Ethiopian coffee tends to present a distinctive and bold flavor coffee that is earthy and full-bodied. Earthy flavors of coffee are related to describing a low acidic coffee.
5. Indonesia
Sumatra islands are known throughout the world for their fine-quality coffee.
Indonesian coffees are remarked for a noticeable rich, robust body and gentle acidity flavors.
How Different Roasts Get Low Acid Levels In Coffee?
Choosing a medium to dark roast coffee is beneficial for people suffering from acid reflux. The total chlorogenic acids are reduced to about 50% at the medium roast level and to small quantities at the dark roast level during the coffee roasting process.
Chlorogenic acids in coffee, when brewed, contribute to the bitter taste, acidity, and sour flavor of the coffee.
Brewing Method To Reduce Acid Reflux
Traditional hot and cold brew coffees brewed using the same coffee beans and extracted at the same coffee to water ratio indicate that the water's temperature impacts the release and diffusion of compounds in the resulting coffee beverage.
This research on acidic levels in brewed coffee found that coffee brewed using hot water extracts a considerable amount of acidity.
Traditional hot brewed coffee results in a highly acidic coffee.
Brewing coffee using cold water is the best way to reduce acidity in the coffee. The long steeping process with cold water combined produces a less bitter and low acid coffee for acid reflux.
Advantages Of Drinking Low Acid Coffee
Helps reduce stomach bloat
Eases IBS
Improves acid reflux & GERD
Protects teeth health
Stops teeth discoloration
Can drink coffee empty stomach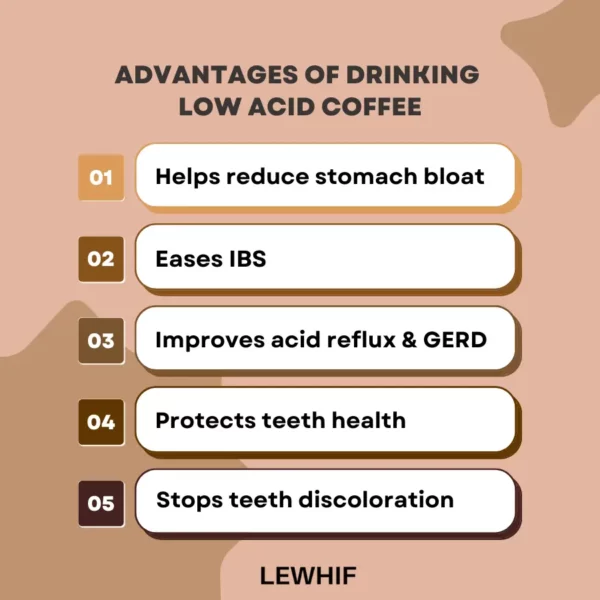 Understanding Coffee Acid Reflux
Statistics show that 60 million Americans suffer acid reflux at least once every month, and over 15 million Americans report symptoms every day.
Acidity in coffee is associated with growing regions, altitudes and mineral-rich soils.
The acidity of water-washed coffees is significantly higher than the acidity found in naturally processed coffee.
The natural process is dry, using the sun. Dry-processed coffees will have subtle acidity. It is essential to mention that as the roast develops, coffee acidity decreases.
The coffee acid content in a brew depends on the coffee roasting degree, type of roaster, and coffee brewing method.
The pH of a coffee is correlated with the perceived acidity in coffee.
Chlorogenic acids have been found to make up around 7% of the weight of arabica coffee beans. The chlorogenic acids are essentially degraded during the roasting process. The composition of chlorogenic acids in green beans reduces from 6.5% to 2.5% by roasting.
Chlorogenic acid is the main compound in coffee packed with antioxidants.
During roasting, quinic acid progressively increases as the levels of chlorogenic acid decrease. Quinic acid is the culprit for acid reflux. Also, when brewed coffee is reheated or if it is sitting too long in the thermos, it aggravates quinic acid levels.
For a coffee to be gentle on the stomach and not cause acid reflux, drink freshly brewed coffee.
How To Choose Less Acid Coffee For Acid Reflux?
Choose organic arabica beans grown at low elevations
Beans should be medium to dark roasted in small batches
Coarse grind the coffee beans
Brew it cold
Add additives
Drink fresh coffee
Sources